SC students prepare for graduate school interviews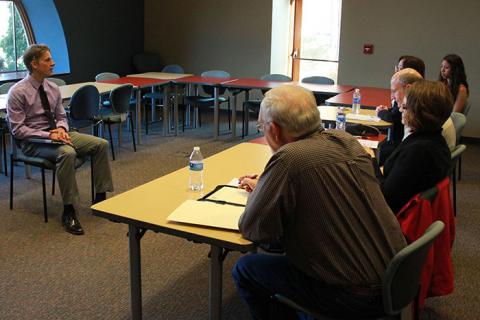 On March 24, the Sterling College Department of Natural Sciences and Mathematics hosted mock interviews for the junior and senior students in the department. The experience simulated an entrance interview to a graduate program or work place.
"Students have different career goals, so the interview experience was customized based on whether the student is planning to attend graduate school, medical school, physical therapy school or go directly into the workforce," said Jonathan Conard, chair of the Department of Natural Sciences and Mathematics.
"I'm really excited that our students have had the opportunity to learn about how the interview process works and have gained valuable skills that will help them in the future," said Conard.
Senior Kaylee Beutler of Clay Center, Kan., is focusing on pre-med and plans to attend graduate school after she graduates with her degree in biology.
"I thought that Mock Interview Night was very beneficial. It was so great to get this kind of experience in a laid back setting, before setting foot into the 'real deal.'  I was very grateful for the feedback that the faculty and doctors shared with me and hope to put it into practice as I prepare for grad school. After this experience, I feel more prepared to tackle the interviews that lie ahead," said Beutler.
Two panels were used to interview the students. The first panel included Dr. Don Williams, former SC professor; Dr. Stacey Dashiell, local physician and SC alumna; Dr. Curt Beechan, professor of chemistry; and Dr. Wai-Foong Hong, associate professor of biology. The second panel consisted of Dr. Tom Simpson, retired family physician and SC trustee; Dr. Jonathan Conard, assistant professor of biology; Connie Carey, director of student health; and Dr. Randal Newhouse, assistant professor of physics.