Scharff named state champion in dramatic interpretation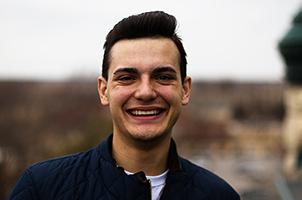 Tuesday, February 20, 2018
Sterling College hosted the Kansas State Individual Events Tournament Feb. 10, with colleges and universities from across the state competing for championship titles. Four Sterling College students walked away with awards, the highest from freshman Matt Scharff of Tonganoxie, Kansas, being named state champion in dramatic interpretation.
"With so many novice speakers, I am extremely pleased with how our students performed. We have few competitions left, and I hope to see one or two more students qualify for the national tournament," said Ken Troyer, forensics coach for Sterling College.
Wesley Lowrey of Topeka, Kansas, finished second in impromptu speaking and extemporaneous speaking. His finish in impromptu speaking earned his bid to the AFA National Tournament in April. He is a junior.
Novice and senior Stephen Jenkins of Topeka, Kansas, finished fifth in prose; freshman Adam Moore of Hutchinson, Kansas, ended the state tournament in sixth place for after dinner speaking.  
Sterling College will send at least two competitors to the AFA National Tournament in Colorado in April. Lowrey will join junior Gabriella Martinez of Hutchinson, Kansas, who qualified for the tournament in informative speaking.
"Sterling College faculty and staff really stepped up to assist with judging the competition. A lot of other schools struggle find judging, so it was great to have so many volunteers willing to give their time to assist Sterling College students in an academic endeavor," said Troyer.
Sterling College is a Christ-centered, four-year college located in Sterling, Kansas, with a mission to develop creative and thoughtful leaders who understand a maturing Christian faith. For more information, visit www.sterling.edu.