Scott Rich accepts Sterling College presidency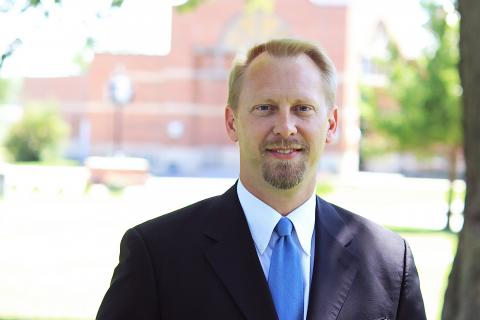 The Sterling College Board of Trustees announces that Mr. Scott Rich has accepted the presidency of Sterling College. Rich will become Sterling's twelfth president effective May 1, 2013.
"The Board and I are very excited that Scott has agreed to serve the college in this capacity. His strength of character, vast understanding of finance and operations, and a strong desire for excellence make him the ideal president for Sterling College, "Chairman of the Board Heather McCreery said.
Rich has been serving as executive vice president and acting president of the College since May 2012. He was appointed interim president in December 2012.
"Sterling College is in a time of renewal, a time of peeling back the layers and getting to the core of who we are as an institution which is setting our distinctive Christ-centered approach and worldview in focus. This is a crucial time in higher education and I am humbled by the opportunity to serve in this capacity," said Rich.
Rich has extensive knowledge in leadership and management having served in that capacity for 21 years, 18 of which were focused on financial and operational management. Rich has an understanding of both the for-profit and non-profit world. He has spent the past six years at Sterling College serving as chief financial officer overseeing all finance, human resource, physical plant, financial aid, business office and risk management/legal functions of the College.
Rich earned a Master of Business Administration with a concentration in Corporate Finance and Organizational Leadership from Liberty University. He also holds a Bachelor of Arts in Behavioral Studies from The Masters College and attended Hutchinson Community College.
Rich and his family are members of Grace Bible Church in Hutchinson. His wife, Kathy, serves as a middle school and high school English and Journalism teacher at Central Christian Schools in Hutchinson.  
Rich and his wife Kathy have three children, Matthew (17), Mason (14) and William (13).
The presidential search committee was made up of Board of Trustees Chair Heather McCreery; Trustees Glennys Doane, Pam Head, Randy Henry, Tim O'Brien and Tony Thompson; and Sterling community members Mike Bender and Josh Gilmore.
Sterling College is celebrating 125 years as a Christ-centered, four-year, liberal arts college located in Sterling, Kan. Since 1887, Sterling has provided quality academics with a mission to develop creative and thoughtful leaders who understand a maturing Christian faith. For more information, visit www.sterling.edu.