Senior art students to showcase work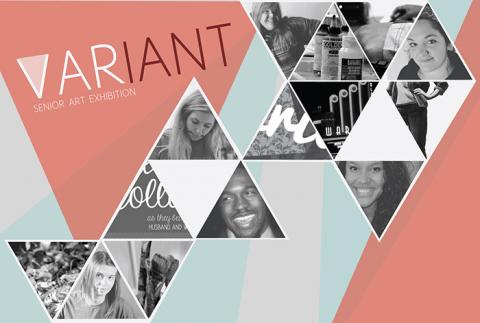 Friday, May 2, marks the beginning of the Sterling College senior art exhibition titled "Variant," which features the final work of six Sterling College seniors. Eddie Adesodun, Carley Chambers, Mackenzie McGuire, Megan Reed, Kara Stineman and Britt Westerman will hold an opening reception for the public to view their work from 5–7 p.m. in the Art and Media Center Gallery. "Variant" and will be on display until Saturday, May 17.
"It is very exciting to work with seniors during the creation of their senior exhibit. Through this class we work with the students to pinpoint what their goals are after graduation and help them create a body of work to achieve that," said Assistant Professor of Art and Design Daniel Swartz.
"We are also proud to be graduating the first seniors who completed the new concentrations in photography and illustration. It has been thrilling to watch the students find their passion in these areas of study and really flourish," said Swartz.
Eddie Adesodun, of Mesquite, Texas, will display a series of tourism pieces that showcase his graphic design and photography work. The series focuses on branding Wichita, Kan., through a series of posters, flyers, brochures and promotional items all conceptualized by Adesodun.
Carley Chambers, of Sioux Falls, S.D., has created pages for a wedding magazine, combining her passion of photography with graphic design skills. The selection in the show will contain a variety of her articles and advertisements that she designed and photographed.
Preparing her portfolio for a business in wedding photography, Mackenzie McGuire, of Wichita, Kan., will display wedding and engagement photographs that she has taken over the semester. Additionally, McGuire will be displaying an array of printed materials to go with her photography, such as engagement and wedding announcements.
With a double major in theatre and art, Megan Reed, of Mulvane, Kan., will display three series of costume designs created for "Arcadia" by Tom Stoppard, "Wit" by Margaret Edson, and "The Fantasticks" with music by Harvey Schmidt and book and lyrics by Tom Jones. The illustrations are meant to serve both as reference images for a craftsperson to create the costumes and as images that investigate the content of the character and their arc through the play.
Kara Stineman, of Salina, Kan., will display a series of mixed media pieces using acrylics, photo-transfers and dry-media. The expressionistic illustrations focus around the concept of an unknowable history. Through the use of juxtaposed images of objects, persons and places, Stineman has constructed a set of pieces that allow the viewer to participate in their interpretation.
By combining graphic design, photography and several other elements, Britt Westerman, of Zenda, Kan., has created packaging designs for an invented client that focuses on products created for writers or others interested in literary concepts.