Senior Directs Picnic by William Inge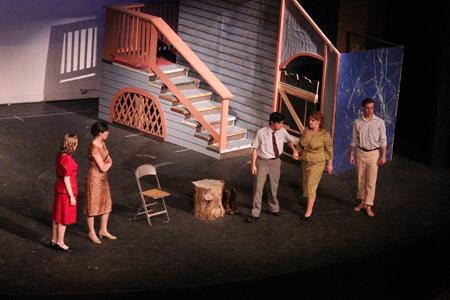 Senior Samantha Davison of Wichita, Kan., known in Sterling College circles for her lead acting and singing roles in several department plays and musicals, is taking on a new challenge by directing William Inge's Picnic.
 Davison will present her senior show, Picnic, at 8:00 p.m. on March 30-31 in Culbertson Auditorium on the Sterling College campus.
Set in a small Kansas town on a 1950's Labor Day weekend, Picnic offers Inge's unique look at love.  In a series of twists about lovers finding one another despite several obstacles, the play manages to touch themes of loneliness, gender roles, beauty, and youth. This show may be more suitable for adults than children.
Davison, a communications and theatre arts major with a concentration in theatre, is directing the play as her senior project, which is a requirement for the theatre arts major. Since her freshman year, Davison has been involved in ten plays, four musicals and two one-act productions. Last April, she directed the one-act play Bus Riley's Back in Town by William Inge. Highlights for the senior include her roles as Jeanette in The Quality of Life, Ouiser in Steel Magnolias and Ruth in The Pirates of Penzance.
Cast members for Picnic include Megan Reed of Mulvane, Kan., as Helen Potts, Ryan Ehresman of Wichita, Kan., as Hal Carter, Chloe Wootton of Norco, Calif., as Millie Owens, Nathan Sullivan of Wichita, Kan., as Bomber, Mandy Lee of Tulsa, Okla., as Madge Owens, Cara Spencer of Lyndon, Kan., as Flo Owens, Jaci Knight of Grayslake, Ill., as Rosemary Sydney, Cody Green of Wichita, Kan., as Alan Seymour, Sara Jolliff of Wichita, Kan., as Irma Kronkite, Chelsey Moore of Wichita, Kan., as Christine Schoenwalder, and Shiloh Duff of Scott City, Kan., as Howard Bevans.
Picnic will run Friday, March 30 and Saturday, March 31 at 8:00 p.m. Tickets are available at the door, and seating is not reserved. The box office will open at 7:00 p.m. on the night of the show and doors will open at 7:30 p.m. Ticket prices are $5 for adults, $3 for children, students, and seniors, and free for current Sterling College students with valid ID. For more information, call (620) 278-4265.