Senior Directs Proposals by Neil Simon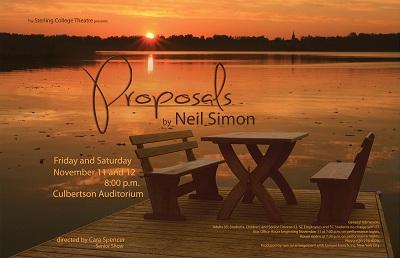 Tuesday, November 8, 2011
Cara Spencer, a senior at Sterling College, who has performed in more than seven productions during her four years at Sterling, has been practicing a different role this time: director. Spencer will be directing her senior show, Proposals, by Neil Simon, showing November 11 and 12 at 8:00 p.m. in Culbertson Auditorium on the campus of Sterling College. 
In Proposals, the Hines family retreats to the Poconos for a family vacation. Their story is told by the housekeeper, Clemma, played by Samantha Davison of Wichita, Kan., who is expecting an unwanted visit from her husband who deserted her many years ago. The father, Burt Hines, is longing for his ex-wife, and the daughter, Josie, has recently broken up with her fiancé, Ken, and is in love with his best friend, Ray. This cast is joined by a dim-witted model and a young Miami gangster who uses strategic malapropisms, to ensure a delightful look at relationships.
Spencer, a double major in theatre and education, is directing the play as her senior project, which is a requirement for the theatre arts major. Spencer is from Lyndon, Kan., and has performed in musicals and plays at Sterling since her freshmen year. Highlights for the senior have been playing Madame Pernelle in Tartuffe, Babe Secolli in Working, and Lucy White in Cocktails With Mimi.  According to Spencer, another highlight has been painting all of the sets for the various productions, but her favorites include Arsenic and Old Lace, Boys Next Door, and Children of Eden.
Cast members include Adam Taylor of Scott City, Kan., as Burt, Mandy Lee of Tulsa, Okla., as Josie, Shane Rogers of Wichita, Kan., as Kenny, Ryan Ehresman of Wichita, Kan., as Ray, Kacie Rogers of Wichita, Kan., as Annie, Jordan Stineman of Salina, Kan., as Vinnie, Sened Tesfay of Chicago, Ill., as Lewis, and Chelsey Moore of Wichita, Kan., as Sammii.
Proposals will run Friday, November 11 and Saturday, November 12 at 8:00 p.m. Tickets are available at the door, and seating is not reserved. The box office will open at 7:00 p.m. on the night of the show and doors will open at 7:30 p.m. Ticket prices are $5 for adults, $3 for children, students, and seniors, and free for current Sterling College students with valid ID. For more information, call (620) 278-4265.