Senior Ryan Ehresman directs "Leaving Iowa"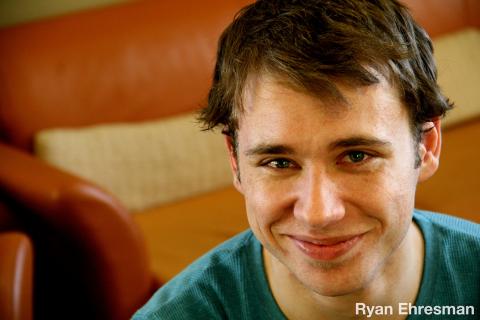 Ryan Ehresman, senior at Sterling College, will direct his senior show, "Leaving Iowa," Friday and Saturday, April 12-13, in Culbertson Auditorium, at 8 p.m. The show, written by Tim Clue and Spike Manton, is a family-friendly comedy. Tickets will cost $5 and the box office will open on show nights beginning at 7 p.m. Doors will open at 7:30 p.m.
"Leaving Iowa" is based on the relationship between a boy and his father on their family's cross-country road trip. As they travel through the fields of Iowa, Kansas and Missouri, Don Browning and his family encounter Amish peddlers, Civil War re-enactors and ghost caverns. The family discovers what it means to be successful and to be a family as they journey together. Told through a series of flashbacks, "Leaving Iowa" is full of chaos, redemption and the classic American road trip.
The show is in partial fulfillment for Ehresman's interdisciplinary degree in musical theatre. He has acted in ten Sterling College theatre productions since starting in the theatre program in 2010, and directed a one act play, "The Man in the Bowler Hat," during the spring of 2012. He has been active in the Wichita theatre circuit as well, participating in Music Theatre Wichita for Young People, The Forum Theatre, Crown Uptown Theatre and Christian Youth Theatre. Ehresman is from Wichita, Kan., and is the son of Terry and Joan Ehresman.
"After being on stage for so long, it's really neat to see all the work that goes into all the other aspects of a play," said Ehresman. "As the director, I not only have to worry about the acting and the blocking, but the lights, costumes, props, music, sound effects, publicity and everything else that goes into a show. Directing this show has been an eye-opening process to say the least, but it's been a blast!"
The cast of "Leaving Iowa" includes Shane Rogers of Wichita, Kan., as Don Browning, Mike Redondo of Norco, Calif., as Dad, Dr. Laura Bateman of Sterling, Kan., as Mom, and Chelsey Moore of Wichita, Kan., as Sis. Tate Stasner of Mount Hope, Kan., and Mandy Lee of Tulsa, Okla., will play multiple characters in the show.