Seven Sterling College students earn KATS honors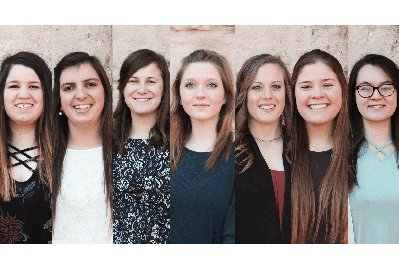 Wednesday, April 10, 2019
Recognized for their outstanding academic achievement, seven students from the Sterling College Athletic Training Program were awarded honors from the Kansas Athletic Trainers' Society. Across the state, 87 students from 11 colleges and universities were named to the list based on their academic standing and 3.40 grade point average.
"This recognition by the Kansas Athletic Trainers' Society is well deserved. These students work long hours learning how to become healthcare professionals through coursework, practical experiences, and skill assessment. I am so proud of these students for their academic dedication and their pride to represent Sterling College," said Pete Manely, director of the Athletic Training Program. 
Two Sterling College students were awarded KATS First Team All-Academic honors. Makenzie Cork of of Thatcher, Ariz.; and Anna Kuns of Wichita, Kansas; met the requirements of a junior or above with a minimum grade point average of 3.8.
With a minimum GPA of 3.6 and academic status of junior or higher, three students were named to the KATS Second Team: Kaycee Carter of Pinon Hills, Calif.; Robyn See of Weskan, Kansas; and Caitlyn Wood of Brighton, Colo.
KATS Honorable Mention All-Academic honors were awarded to Breanna Betts of Fowler, Kansas; and Callie Bobo of Lake Placid, Fla. Honorable Mention requires academic standing of a junior or above with a minimum GPA of 3.4.
All grade point averages were figured using the average of their spring, fall and cumulative GPA. To be nominated for the list, students must be fully accepted into the professional phase of their athletic training program, be a full-time student at their school for both semesters in fall and spring, and rated by their program director at four out of five or higher in clinical performance. Participating schools have an athletic training program accredited by the Commission on Accreditation of Athletic Training Education.
The Kansas Athletic Trainers' Society helps assure top quality health care to the physically active in Kansas, and promotes and increases knowledge of the profession of athletic training to the citizens of the state of Kansas.
Sterling College is a Christ-centered, four-year college located in Sterling, Kansas, with a mission to develop creative and thoughtful leaders who understand a maturing Christian faith. For more information, visit
www.sterling.edu
.