Slaughter '06, Tedford '55 Presented with Alumni Awards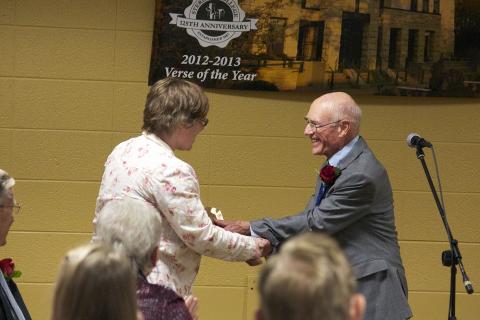 Wednesday, October 24, 2012
Two Sterling College Alumni were honored for their significant contributions to their profession and community at the 2012 Alumni Banquet held on Oct. 20. Josh Slaughter '06 was awarded the Young Alumni Award for excellence in the field of journalism and helping youth in the town in which he lives.
Elwyn Tedford '55 was presented with the Alumni Award for his active involvement in the Presbyterian church, community involvement and leadership in ministry.
The Young Alumni Award is given to alumni who graduated less than 15 years prior to the year given and have shown outstanding contributions in developing careers, service to society and loyalty to Sterling College. The Alumni Award has similar requirements, but is reserved for those who graduated more than 15 years prior to the year given.
Slaughter is the director of communications for the Mid-America Intercollegiate Athletic Association in Lee's Summit, Mo. He is an award-winning photojournalist who has encouraged and helped several students start their career in photojournalism and the media relations industry. Slaughter has also used his experience in collegiate debate and forensics to volunteer with the local debate and forensics coaches in the Lee's Summit area.
Slaughter's mentor, Steve Griffon, said, "He's an award-winning journalist and he now works for one of the top conferences in the MIAA. I've followed him since meeting him at a radio conference a couple of years ago. He was professional and knew what he was talking about. …He talks about his roots in the NAIA at any chance and I think he's more than deserving of this award."
Slaughter earned a B.A. in Communication and Theatre Arts from Sterling College.
Tedford is a retired minister who remains active in his ministry to the church at large and his local community. He is a former president of the Sterling College Alumni Association and has remained supportive of Sterling College by recommending its education to young people.
After graduating from Sterling College, Tedford earned a degree from Pittsburgh-Xenia Theological Seminary and his M.Th. at New College in Edinburgh, Scotland. He continued his education at Manchester University in England where he earned a M.A. in Theology.
As a pastor, Tedford led churches in England, Kansas, Indiana, Ohio and Illinois. He was also active in the communities in which he served by organizing a hunger center, a food pantry and a crisis counseling center where he directed youth camps and clubs.
Upon retiring from active ministry, Tedford became active in the Kairos prison ministry, a lay-led Christian ministry for male and female correctional institutions. He also manages rental cabins near Lyons, Colo., which he offers as a ministry in providing hospitality and a low-cost retreat for ministers, church members, Sterling College Alumni and their families.