Slone to open art show Jan. 30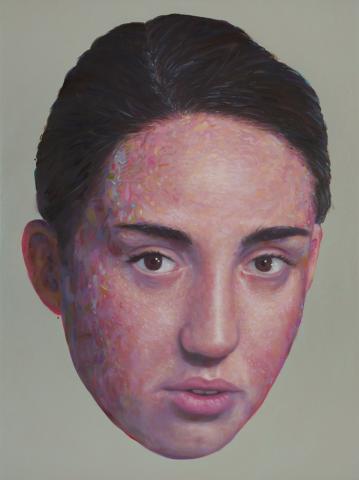 Tuesday, January 21, 2014
The first visiting artist of the 2014 spring semester, David Slone, opens his show on Thursday, Jan. 30, from 5-7 p.m. in the Sterling College Art and Media Center gallery. Slone, a lecturer in art for Sterling College and Sterling resident, will talk about developing the body of work at 5:30 p.m. The painting exhibit, which includes multiple investigations from the past year and a half, will be on display through March 6.
"Since moving to Sterling, I have been able to further develop my painting technique, which is a combination of realism and abstraction within primarily figurative subjects. Areas in my paintings start to break down into distinct shapes and colors, then quickly blend back into a smooth and representational style. My hope is to pull the viewer away from the specific individual represented and toward a more universal interpretation. I am excited to be able to share this work at Sterling College," said Slone.
Slone is originally from North Carolina. He moved to Anderson, S.C., to attend Anderson University where he graduated cum laude with a Bachelor of Arts with concentrations in graphic design and painting and drawing. After graduation, he moved to Greenville, S.C., where he was a graphic designer at Erwin Penland, an advertising agency. Erwin Penland's clients include Verizon Communications Inc., Denny's, and Michelin. He was also accepted into Art Bomb Studios, an artist collective in Greenville, where he maintained a consistent studio practice and participated in numerous local and regional shows. In 2012, he moved to Sterling, Kan., when his wife, Hanna Kozlowski-Slone, began teaching at Sterling College. Since then, Slone has begun painting full time.
Slone has recently a solo exhibition at AKA Gallery in Oklahoma City, Okla., and was part of a group exhibit at Leedy-Voulkos Art Center in Kansas City, Mo.