Smith wins NAIA National Championship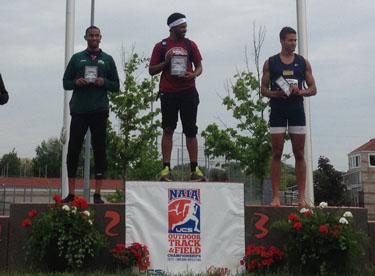 Senior hurdler Cedrique Smith won the NAIA National Championship in the 110m Hurdles on Saturday afternoon in Marion, Ind. on the campus of Indiana Wesleyan University with a time of 13.97.
Smith, from Phoenix, Ariz., separated from the leaders on the final two hurdles to win his third NAIA National Championship in the event. The past two championships were won while racing for Azuza Pacific (Calif.).
Derik Douglas, who ran the top qualifying time from Oklahoma Baptist, finished in second with a time of 14.11 and Logan Moore from Siena Heights rounded out the top three with a time of 14.17.
Smith's time was 0.06 seconds faster than his 2012 NAIA National Championship time of 14.03. His other National Championship was won in 2008.
The individual championship for Smith is the first in Sterling College history.
Watch the race online.