Sondheim's "Company" staged at Sterling College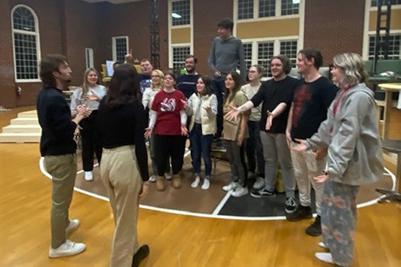 Wednesday, February 1, 2023
Legendary music theatre composer/lyricist the late Stephen Sondheim wrote many iconic musicals but the one that broke the traditional musical mold and started a new wave of concept musicals is "Company." The revolutionary musical will have an unusual staging at Sterling College Theatre in Upper Wilson Hall on Friday and Saturday, February 10 and 11 at 7:30 p.m. 
Company is not a traditional musical with a linear plot. It tells the story of Bobby, a perpetually single man living in New York City who seeks advice from and shares bachelor stories with his friends—five married couples who want him to "grow up" and get married. In these conversations, spoken and sung in a series of vignettes, Bobby learns the truth about sacrifice, love, connection, dating, and divorce. The scenes are not in chronological order, but all allude to the same event: Bobby's 35th birthday. 
Sondheim's score for the show is filled with memorable songs that have become music theatre standards since the show premiered in 1970. The lively women's trio "You Could Drive A Person Crazy," the driven solo "Another Hundred People," the rapid-fire "Not Getting Married Today," and the rousing "Ladies Who Lunch" are all musical theatre classics now, just as the anthemic "Being Alive" which closes the show is as well. 
"Company is an unusual show and its director, senior theatre student Dylan Werth is an unusual student," said Sasha Hildebrand, Artistic Director of Sterling College Theatre who is acting as co-director with Werth. "Dylan is a gifted artist in costuming, hair, and wig design as well as being a stronger performer. For his senior year he is not performing but focusing on his design work and creating a unique production of this seminal show." 
Werth said, "This is a show that I have loved for many years now. It's truly a different kind of piece compared to what kind of musicals audiences are normally accustomed to. While it has a brilliant story that shares the complexities of relationships in various forms, Company is most about the struggle between anxiety and vulnerability within the human condition. 'Love is scary' - What I mean by that is that I want to highlight the complexities that love can be, while visualizing the anxiety - or lack thereof - and vulnerability that Bobby experiences throughout the show."
Werth says he has kept his creative freedom in working on the show with others. He is working with several fellow theatre students on various elements of the show. Junior Emily Jones is lighting designer; Rebekah Parish, sophomore, is fight director and props master; junior Rachel Thomson is staging select songs, freshman Noah Svaty is doing sound, while freshman Brayden Keeler and sophomore Sean Gorman are stage managers. 
Besides Hildebrand, Werth is working with technical director Stephen English on the unique environmental setting in Upper Wilson. His concept of the show is that it takes place as a sort of "fever dream" for Bobby. As such, he is costuming all the characters in various pajamas and sleep attire.
Sterling College Band director Larry Brownlee is conducting the musical combo while Sterling College alum and Hays High School music teacher Alex Underwood is music director and accompanist for the show.  
"This is a different take on a very beloved piece, which brings a lot of pressure. I have learned to trust/ stand by my creative decisions, and I am grateful that I am allowed such artistic freedom. Collaboration and communication are aspects that I am glad to be able to facilitate within the Company production," Werth said.
He concludes, "The cast is small, the music is complicated, the scenes are juicy, and the characters are fully realized. This show experience has been difficult, yet productive. We are working on very complicated music and the Kennedy Center American College Theatre Festival in Des Moines has been in the middle of rehearsals, yet everyone in the production is working hard and creating magic." 
Seating in Upper Wilson Hall is limited. Advance tickets are recommended for the February 10 and 11 show which will be at 7:30 p.m. Tickets are $15 for adults and $5 for students and are available online at www.sterling.edu/arts or by calling 620-278-4364. Due to adult themes, the show is rated PG-13 and is not recommended for children. 
Sterling College is a Christ-centered, four-year college located in Sterling, Kansas, with a mission to develop creative and thoughtful leaders who understand a maturing Christian faith. For more information, visit www.sterling.edu.