Sterling's Slate named a 2022 KICF Maud Wyatt Recognition Scholarship Recipient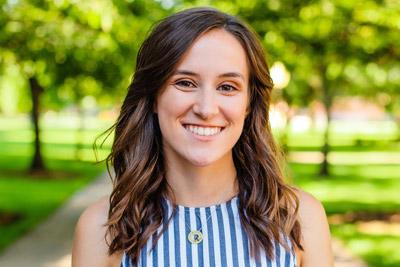 Sterling's Slate named a 2022 KICF Maud Wyatt Recognition Scholarship Recipient
Sterling College student Hannah Slate of San Angelo, Texas, was awarded a 2022 Maud Wyatt Recognition Scholarship from the Kansas Independent College Foundation. KICF awards up to 20 individual scholarships, one for a student at each Foundation member institution. Slate is a Christian Ministries major with a 4.00 GPA at Sterling. 
"Hannah is the perfect example of what a Warrior should be. She portrays a servant-leadership attitude in everything she does and is a great example for the entire student body. We are excited that she has been selected for the Maud Wyatt Recognition Scholarship," said Mitzi Suhler, vice president for enrollment services.
The recipients are all full-time, degree seeking students on the cusp of graduation, and have each demonstrated excellence in academics, character and integrity, and a commitment to the value of a private college education in Kansas. These students lifted the spirit of their respective communities during this historic year while also maintaining GPAs of 3.5 or above. 
"Our 2022 essays each showed a commitment to the value of a private college education in Kansas. We are so lucky that these students chose our network to begin their journey to purpose and success in the world," said KICF President Matthew Lindsey.
KICF is confident that this scholarship will help students complete a degree that is preparing them for a lifetime of professional and personal fulfillment. This scholarship was established in 1995 through the generosity of Maud Wyatt, whose bequest has supported the work of KICF and its institutions since 1961. The Kansas Independent College Foundation seeks to develop, promote, and direct unified approaches to selected corporations, foundations, and individuals for financial support of Kansas' independent colleges and universities. 
Located in Topeka, the Kansas Independent College Foundation is a 501(c)3 that develops and enhances the competitive standing of its 20-member independent, non-profit, regionally accredited, degree-granting colleges and universities and strives to assure opportunity and choice in higher education for all students. For more information on the Foundation, or for additional quotes from the winners, please contact Jesyca Hope at 785-235-9877 or jesyca@kscolleges.org. 
Sterling College is a Christ-centered, four-year college located in Sterling, Kansas, with a mission to develop creative and thoughtful leaders who understand a maturing Christian faith. For more information, visit www.sterling.edu.