Sterling Art Department Honored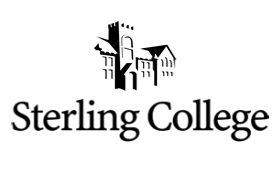 Tuesday, September 30, 2008
Another first for Sterling College happened last week – the first "Department of the Year" award. Sterling College Art & Design chair William Morse accepted the first "Department of the Year" award in a faculty reception last week. The new award is designed to recognize outstanding achievements in recruitment and retention along with improvements in an academic program. The award comes with a $1000 gift for the department.
"There has been a significant emphasis the last few years on faculty involvment in the recruitment process," says Dennis Dutton, VP for Enrollment at Sterling. "Our professors have stepped up their efforts in establishing relationships with potential future Sterling students through phone calls, emails and letters."
Sterling College has 12 new students who have indicated an interest in majoring in Art/Design this fall compared to as few as four in recent years. "Professor Morse has made a major difference in the College's art program since coming a mere two years ago," says Dutton. In addition to the increase in the number of students interested in Art, Morse has significantly renovated the Art Department facilities and made changes in the academic offerings. The Sterling College Art Gallery and adjacent studio have new tile floors and the walls have been painted as well. There are several new computers in the art lab as well as new stools and tables in other classrooms.
Morse has restructured the traditional art program to include the popular areas of graphics and animation. He has a vast background in both areas. "Morse has transformed the Sterling art program virtually on his own," says Dutton. "He taught all of the art classes in the spring semester while making plans to renovate the facilities. Much of the summer was spent by Morse and his family assisting in the renovation. He also got the Academic Dean involved in helping with the project."
Morse is joined this semester by David Harmon who comes to Sterling from the reknowned Savannah College of Art and Design. Sterling graduate Joe Jacobs returns to the art department teaching ceramics.
"What a blessing for the Art & Design Department to be given the "Department of the Year" award," says Morse. "So many of the Sterling family have contributed to our program. Dr. Troy Peters, the academic dean, who not only has given me the support we needed in this department, but literally rolled up his sleeves and helped restructure the gallery walls. In my years of teaching, I do not know of another Dean that would have done that."
The newly remodeled Sterling College Art Gallery presently has a show featuring the work of the faculty, Morse, Harmon and Jacobs. Next up will be an exhibition of abstract expressionistic paintings by Susan Harmon.