Sterling College's Gage Brookman Wins National Top Speaker Award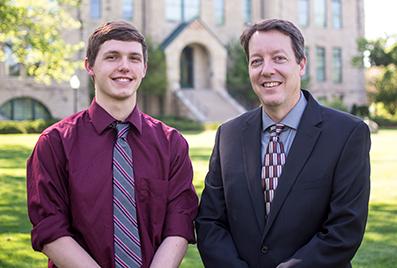 Continuing an impressive run, Sterling College Debate's Gage Brookman became the top speaker in the nation by winning the 2018 National Forensic Association Top Speaker distinction in Lincoln-Douglas Debate. Brookman, of Hutchinson, also collected a top-10 finish in the octafinal round of competition, finishing in ninth place overall.  
"Gage has tremendous respect from other coaches and his fellow competitors due to his easy going personality coupled with tenacious competitiveness in round, which is exactly why he has had such success. The accolades he has amassed over the last four years are unlikely to ever be surpassed," said Ken Troyer, debate coach.
Brookman has placed in the top ten for Lincoln-Douglas Debate speakers three out of his four years at Sterling College, having placed ninth in 2015 and third in 2016. He has contributed to the College's national team placement of top-12 or higher for the past three years, placing 12th last year with a two-person team of Brookman and Bryce Harner of Hutchinson. The team's highest national placement was in 2015, when Brookman, Harner, Cody Campbell of Buckeye, Arizona; Brandon Hoesli of Salina; and Darren Kootz-Eades of Great Bend finished fourth.
The 2017-18 national tournament appearance was the ninth consecutive for Sterling College. The Lincoln-Douglas debate portion of the national competition included 94 competitors fielded from 24 colleges and universities. This comprehensive competition between institutions of all sizes featured debaters from Cameron University, Clarion University, Central Michigan University, California State University Chico, California State University Sacramento, Hillsdale College, Illinois State University, Johnson County Community College, John Carroll University, Lafayette College, Missouri State University, University of Nebraska-Lincoln, Penn State University, Purdue University, ,Shepherd University, Simpson College, Sterling College, Texas A&M University, Truman State University, University of Central Missouri, University of the Pacific, Wiley College, and Western Kentucky University.  
Sterling College is a Christ-centered, four-year college located in Sterling, Kansas, with a mission to develop creative and thoughtful leaders who understand a maturing Christian faith. For more information, visit www.sterling.edu.