Sterling College's Julich publishes book chapter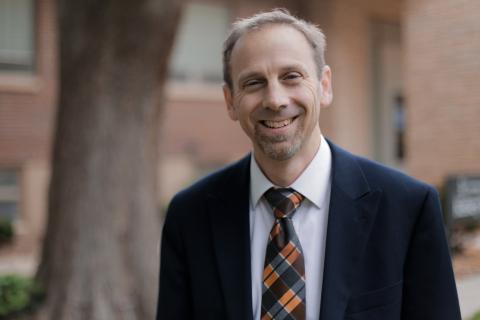 Tuesday, October 23, 2018
Sterling College Associate Professor of History and Government Dr. Daniel Julich has had his chapter '"Bulwark of Democracy': Optimism and Identity at Sterling College in the War Years" published in "Denominational Higher Education During World War II," and it is currently available.
The chapter discusses the ways in which Sterling College struggled for identity, survival, and financial stability during the Great Depression, Dust Bowl, and World War II. These difficult years strengthened the College in those areas and helped them come out with an optimistic attitude afterwards. The article argues that one of the key issues that Sterling College had to face was the focus on technical education during that time.
"[Liberal Arts Colleges] don't have to simply be responders to a kind of necessity of practicality, but we can push back and say, 'What we offer is something important to the world, even if you can't put a measurable quantity on the importance of being able to think carefully.' And for us, I think in a way that reflects Christian values," said Julich.
The book is published by Palgrave Macmillan Publishing. It is available through their website or from Amazon.com.
Sterling College is a Christ-centered, four-year college located in Sterling, Kansas, with a mission to develop creative and thoughtful leaders who understand a maturing Christian faith. For more information, visit www.sterling.edu.