Sterling College for 2018 Best Colleges: Midwestern by Princeton Review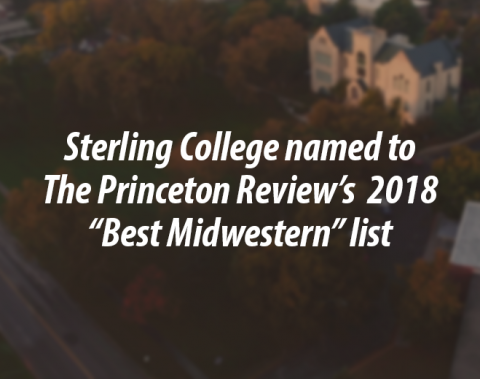 Wednesday, September 13, 2017
Sterling College was named to The Princeton Review's 2018 "Best Midwestern" list for the seventh year. The Princeton Review named 658 colleges from across the United States and internationally to the "2018 Best Colleges: Region by Region" lists.
The institutional survey data held steady again this year with continuing scores of 87, 83 and 81 for the categories of Professor Accessible, Professor Interesting and financial aid, respectively. Sterling College also received an 82 in Admissions Selectivity and a 71 in Fire Safety. With possible scores on a scale of 60-99, the College continues to see score improvements from year to year.
"We're thrilled to again be named to The Princeton Review's 'Best Midwestern' list. Parents see it as a mark of our continual investment in the students, as well our commitment to a excellence as an institution," said Scott Rich, president of Sterling College.
For more information on the "2018 Best Midwestern" list, visit www.princetonreview.com