Sterling College Announcement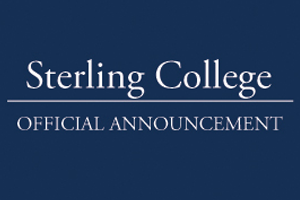 The Sterling College Board of Trustees has elected not to renew the contract of Dr. Paul J. Maurer as President of Sterling College, Sterling, Kansas, effective May 13, 2012.

"The Board is grateful for the vision that Dr. Maurer has provided during his time at Sterling. He has positioned the college well for growth. However, we believe that guiding the institution into the future and achieving our strategic plan in a manner consistent with our mission will require a new leader," stated the Board of Trustees in their public release.
Executive Vice President and CFO Scott Rich will lead the team and manage the operations of the college until an interim president is named.
"The Board has utmost confidence in Mr. Rich to lead our institution and continue to advance our strategic plan. We will be looking for a President who shares our commitment to excellence in Christ-centered higher education and servant leadership. We are confident we will find that person, but will not rush to identify and place either the interim or the permanent president," said the Board.
Sterling College is a four year, liberal arts college located in Sterling, Kansas with a mission to develop creative and thoughtful leaders who understand a maturing Christian faith.