Sterling College announces 2017-18 theatre season under new directors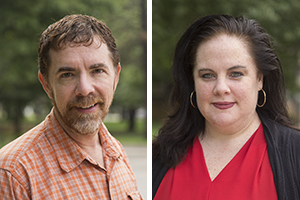 Tuesday, September 12, 2017
Sterling College welcomed two new professors to the theatre program this year, both highly awarded for their work in theatre and eager to work with students and community members alike in their 2017-18 theatre season. Sasha Hildebrand, alumna of Sterling College, is returning as artistic director and assistant professor of theatre arts. Stephen English is the new technical director and associate professor of theatre.
"I'm so honored and humbled to be back in the place where I first started my pursuit of a theatrical career under (former professors) Gordon and Diane DeFranco-Kling," said Hildebrand. "Stephen and I are also extremely excited to be offering the department, the College, and the community an opportunity to partake in some of the most revered and entertaining pieces ever written. We wanted to enter this year swinging, and hopefully we will help continue the legacy of producing great work and nurturing exceptional artists here at Sterling College."
Some in the community remember what Hildebrand brought to local theatre before she left, having been involved in Sterling Community Theatre, Sterling High School and Russell High School Theatres, and the Flag Theatre of Hutchinson. Her work was recognized by the Music Theatre of Wichita, having received three Jester Awards for Excellence in Costume.
"Sasha is a true educator and collaborator. She's been a joy to work with and truly seeks to bring out the best in students. She directed several shows for us here at Sterling High School and always brought out the best in her cast and her creativity is tops. She cares deeply about the art and the student in the art. I'm thrilled she is back in the community and her impact will be felt by all," said Sterling High School theatre teacher Betsy Dutton.
English is new to the community but not to theatre. Having worked in theatre at many levels, English has done scenic design, carpentry, lighting, directing, and technical work at both the community theatre level and higher education. He has worked with many students while teaching and in managing a theatre, and is excited to get back to the work that he enjoys.
"I'm happy to get back into the creative and hands-on work of theatre. I have been in many roles within the theatre, and what excites me the most is scenic design and lighting. Teaching these skills, along with the others I have acquired throughout my experiences, will benefit the students as they look to move into theatre as professionals," said English.
Dennis Dutton, vice president for enrollment at Sterling College and avid Sterling community theatre participant, said, "I'm excited to have Stephen in the theatre department. His background and gifts are a great compliment to Sasha's and his passion for theatre and design are apparent. He has much to offer his students and I look forward to seeing his work here at Sterling."
The Homecoming musical, "Once Upon a Mattress" is a musical comedy that takes its roots from the classic fairytale of the Princess and the Pea. The musical is under the direction of Assistant Professor of Music Mark Clark and will run Oct. 5-7 at 8 p.m. and a matinee performance Oct. 8 at 2 p.m.
November will bring the dramatic play "All My Sons" to the stage of Culbertson Auditorium. Written by one of the most revered fathers of theatrical realism, Arthur Miller – whose classics "The Crucible" and "Death of a Salesman" grace almost every theatre history compilation – "All My Sons" is based on a true story of how an aeronautical company in Ohio was accused of knowingly producing faulty airplane parts that were put into usage during World War II, which ultimately affected the family of leading characters. The play will run Nov. 17-18 at 8 p.m., and Nov. 19 at 2 p.m.
February will bring "You're a Good Man, Charlie Brown," taking the audience to the world of Charles M. Schulz's characters from the comic strip "Peanuts." Viewers will experience the lives of Charlie Brown, his sister, Sally, and friends Lucy, Linus, Schroeder, and his trusty canine companion, Snoopy, as they go to school, play baseball, attend glee club rehearsal, and deal with friends, kites, and delve into imaginative play. Performances will be held Feb. 2-3 at 8 p.m. and Feb. 4 at 2 p.m.
As previously announced, the classical play "Romeo and Juliet" will take place March 1-3 at 8 p.m., involving a cast of Sterling College students and local community thespians. The classic Shakespearean tragedy of a love relationship that forms between two warring families has never been performed by Sterling College theatre and is a return after many years of Shakespeare to the College.  
The farcical comedy "Noises Off" will send the audience home laughing. Considered to be one of the best physical comedies ever written, "Noises Off" takes viewers on the hilarious journey of a misfit troupe of actors as they try to rehearse and run the fictional show: "Nothing On." The show will run April 19-21 at 8 p.m.
Ending the year in Sterling College style, students will direct one-act plays of their choosing May 3-4 at 7:30 p.m. As part of the class on directing, this night always proves to be one of variety as the list includes drama, comedy and abstract theatre.
All tickets will be sold online at www.sterling.edu/theatre as well as available at the box office on show nights. The box office will open one hour before showtime, and seating will open 30 minutes before the start of the show.