Sterling College announces addition to Arts, creation of Enrollment Services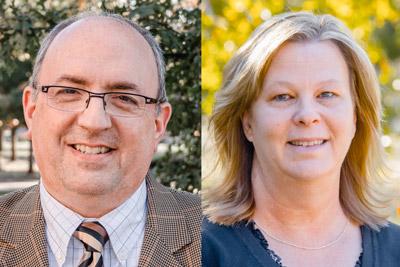 Sterling College has announced several changes focused on serving the needs of prospective students and their families. Dennis Dutton '82, vice president for enrollment, will be moving to a new position, executive director for the arts, where he will lead the arts programs at Sterling. Additionally, the College has announced the creation of the Office of Enrollment Services, combining the admissions and financial aid offices to provide a seamless onboarding experience for new students to Sterling. This team will be led by Mitzi Suhler, vice president for enrollment services. 
"I greatly applaud our incredible staff for leaning into the challenge of change and embracing new opportunities. Dennis and Mitzi have been wonderful ambassadors for Sterling College and I am excited for the impact they will have on prospective families, current students and Sterling alumni moving forward," said Dr. Scott A. Rich, president.
As executive director for the arts, Dutton will lead the overall recruitment processes for the Arts, plan and promote events along with the scheduling of buildings and facilities related to the Arts and coordinate alumni engagement within the Arts.  His main goal is to increase the number of students participating in the Arts and assist our faculty in growing our student numbers in each academic major within the Arts.  He will also engage Arts alumni and aid in planning homecoming activities and special Arts specific alumni events.
Dutton has worked for the Office of Admissions at Sterling College for over 30 years and was recognized in 2016 with an Outstanding Achievement Award from the North American Coalition for Christian Admissions Professionals.
"From my admissions post, I have always been an advocate for the Arts. I am excited to now bring my total focus and energy to the arts areas I am so passionate about. Sterling has long been blessed with outstanding arts faculty and directors who provide students tremendous opportunities and experiences. Working with our current faculty and directors to promote and create programming will be a joy for me. Plus, I know most of our alumni arts teachers and alumni in the arts areas so I look forward to connecting with them in meaningful ways," said Dutton. 
The Enrollment Services Department will focus on integrating processes and support with student care and engagement throughout the recruiting process. Together, this new Enrollment Services team will act as a concierge for onboarding students with a goal to grow our overall student numbers through recruitment and retention efforts. This team will be led by Mitzi Suhler, vice president for enrollment services and Emily Fuller '17, director for enrollment operations. 
"We, in the Office of Enrollment Services, are very excited about this transition. Bringing the admissions and financial aid team under one roof will allow us to offer Sterling students a one of a kind service that will follow them all the way through graduation," said Suhler. 
Sterling College has many scholarships available to students, including academic scholarships, arts scholarships, activity scholarships, endowed scholarships and more. For more information on scholarships available to prospective students, contact the Office of Enrollment Services at admissions@sterling.edu or by phone at 620-278-4275. For more information on how to participate in the arts at Sterling, please contact Dennis Dutton, executive director for the arts at arts@sterling.edu. 
Sterling College is a Christ-centered, four-year college located in Sterling, Kansas, with a mission to develop creative and thoughtful leaders who understand a maturing Christian faith. For more information, visit www.sterling.edu.