Sterling College announces new roles for Moncada and Couture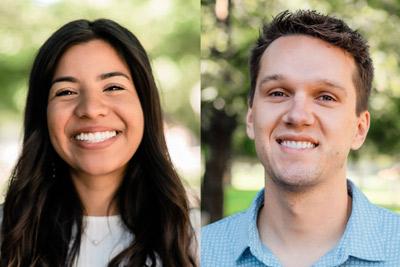 Sterling College has announced Estephany Moncada '19 as the College's interim associate chaplain and diversity officer and Brett Couture '18 as director of academic support & student engagement. The duo provide additional leadership and experience to the Office of Student Life. 
"Estephany and Brett have been long standing exemplary members of the Sterling College Warrior family. They added incredible value first as students, did the same in their first staff positions after graduating, and I am confident they will continue to do so in their new roles. We are so eager to retain them on our team and have them serve our students in these new ways," said Paul Brandes '11, chaplain and associate vice president for student life and church relations. 
In her new role, Moncada will assist the Office of Student Life by directing Spiritual Life programming on campus while also providing leadership to the Diversity Office. Moncada previously served as director of academic support & student engagement. Moncada's office is within the Student Life Office. Moncada graduated from Sterling College and earned her Bachelor of Science in Criminal Justice: Pre-Law, graduating with honors of magna cum laude and Kelsey Scholar. 
"It is an absolute honor to be able to serve Sterling College in this new capacity. I pray that we can only grow tighter as a body in Christ, and truly deepen our understanding of not just each other and the cultures and identities that make us who we are, but of Christ's heart for us. We are not the same, but we need each other to compose the church, and together light our community with a truth that surpasses all types of understanding," said Moncada.
Couture, former resident director, will provide leadership to the Academic Support Center. He and his team are committed to helping students succeed academically. They offer peer tutoring services, disability services, and assistance for students wanting to improve their time management or study skills. Couture offices within the Academic Support Center, located in Mabee Library. Couture graduated from Sterling College and earned his Bachelor of Arts in Communication and Media Arts: Public Relations, graduating as a Kelsey Scholar. 
"I am so excited to be stepping into this new role. It is so rewarding to see students reach their full potential not only in their academics, but in their spiritual and personal lives as well. I hope to create a space for students to feel welcome no matter where they are in their academic journeys," said Couture.
Sterling College is a Christ-centered, four-year college located in Sterling, Kansas, with a mission to develop creative and thoughtful leaders who understand a maturing Christian faith. For more information, visit www.sterling.edu.