Sterling College announces Warrior Alumni Referral Program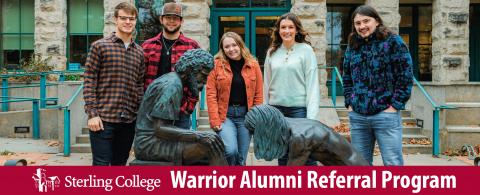 Tuesday, February 28, 2023
Sterling College has announced a new way for alumni to support their alma mater by referring the next generation of Sterling College Warriors. The Warrior Alumni Referral Program provides a $4,000 scholarship over four years to students referred by alumni through the program. To participate, alumni simply need to fill out the form at www.sterling.edu/alumni/referral-program with nominations of young men and women who would benefit from a Sterling education and bless the Sterling community.
"We are excited about this new Warrior Alumni Referral Program. This allows us to reach out to students who might not know about Sterling College. It is a way for our alumni to share Sterling College with those they know would benefit from the experience of being a Warrior," Mitzi Suhler, vice president for enrollment services. 
The scholarship is awarded in addition to all other scholarships and grants given by the college, excluding the Legacy Scholarship. For each student enrollee, the referring alumnus will receive a gift of appreciation from Sterling College. All incoming Alumni Referral students will receive a special gift from the Alumni Association when they arrive on campus. 
"The Warrior Alumni Referral Program is an exciting new opportunity for both alumni and new students alike. Alumni have had the Sterling education experience and know firsthand what a blessing it can be. We are happy to provide this avenue for them to share that experience and bless the next generation of Warriors as they come to Sterling and out into the world," said Liliana Ball, director of alumni relations.
Please contact admissions@sterling.edu or call 620-278-4314 with any questions or to get more information regarding the Warrior Alumni Referral Program.
Sterling College is a Christ-centered, four-year college located in Sterling, Kansas, with a mission to develop creative and thoughtful leaders who understand a maturing Christian faith. For more information, visit www.sterling.edu.