Sterling College Art Professor David Harmon's Work Wins Award in Juried Show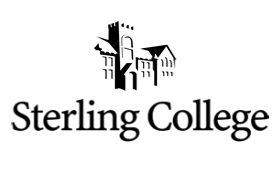 Tuesday, September 29, 2009
David Harmon not only teaches art, he creates it, submits it-and wins awards for it. In 2009 Harmon has had two works accepted at juried art shows, and one of those pieces was awarded third place in the show. "Few of our students realize how much competition there is in the arts," said Harmon, a professor in the Sterling College Art and Design Department. "But the competition to get work accepted at juried shows and then considered for awards is good for us- as artists and as people."
Harmon's landscape drawing titled "Cavernous" was accepted and awarded third place at the 9th annual American Juried Landscape Exhibition hosted by the Maryland Federation of Art in Annapolis, where it is on exhibition through October 18. The juror for the exhibition was Claudia Rousseau, Ph.D., a professor of art history at Montgomery College. Harmon's "Cavernous" depicts 1,100 year old Native American pictographs. With an oriental sumi-brush technique, the ink-on-paper piece shows a recess in a cavern where art might be found. It is one of Harmon's many works that focus on his interest in carved rock, also known as Indian writing.
Harmon's piece "Primus #3," a pastel, was accepted at the 30th annual Paper in Particular show at Columbia College's Larson Gallery in Missouri. "The quality of the work was outstanding, and the process of winnowing down the applications to the few selected works was complicated by the remarkable number of worthy entries," said Paper in Particular judge John Hull, chair of the studio art department at the College of Charleston, S.C., and four-time winner of the National Endowment for the Arts Visual Artist Fellowship.
"You take a risk sending work to a juried art show," Harmon said. "The artist pays to ship the work, and the jurors, who are trained artists and art critics, look at the large collection of submitted work and decide what belongs in the show. If your work is rejected, you pay to have it sent back."
Though teaching and submitting art take up much of Harmon's time, he purposefully plans opportunities to create art. This past June Harmon and his wife, also an artist, spent ten days in Costa Rica at the David and Julia White Artist Colony Retreat. "My wife and I were able to spend our mornings exploring Costa Rica and our afternoons and evenings working on pieces inspired by what we had seen," he said. "The atmosphere at the retreat gave us time and space to create." Harmon completed several watercolors of the Costa Rican landscape that he hopes to submit to upcoming shows.
"It's been good personally to have these recent successes," said Harmon, "and I plan to continue entering my work in competitions. It's important for my students to see me, their professor, still pursuing my art."