Sterling College Arts 2018 Hall of Fame Class Announced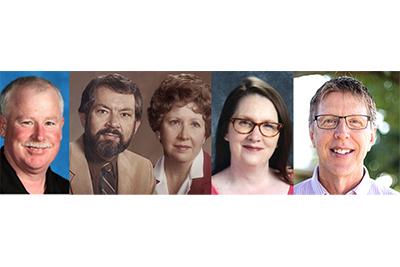 Tuesday, September 18, 2018
The Sterling High School arts triumvirate of Larry Brownlee '80, Clark Comley '88 and Betsy Dutton '82 are being inducted to the Sterling College Arts Hall of Fame this Homecoming, along with posthumous awards for Gordon and Rae Zahradnik.
Brownlee, Comley and Dutton are Sterling College graduates and have served as arts educators at Sterling High School for a combined total of 100 years, each one over 30 years. Gordon and Rae also served in education; Gordon taught at Sterling College from 1966 to 1990 and Rae taught part-time at the College from 1967 to 1981.
Brownlee graduated from Sterling College in 1980 and began his teaching career at Chase High School before going to Eureka High School. After receiving his master's degree in music education in 1985 he returned to his high school alma mater to teach. He has been named Outstanding Music Educator twice and had his bands appear at the Kansas Music Educators Association convention numerous times. Over his 30 years at Sterling High School, his bands have accumulated numerous honors including over 20 I ratings at State Festival along with several "Best in Class" awards and Sweepstakes awards at the Worlds of Fun Music Festivals. His high school band was selected as a Grammy Signature School for excellence in music education as well. Brownlee has served as district executive director for KMEA for several years and been active as a clinician adjudicator for many music festivals. In addition to his band accomplishments, Brownlee has also coached girls basketball and cross country at Sterling High School.
Clark Comley graduated from Sterling College in 1988 and has taught and directed choral groups at Sterling High School since. During his tenure, he has consistently had half of the student body participating in choral music. His choirs and ensembles have also performed at numerous KMEA conventions. He has a masters degree in education from Friends University. He has been named the KMEA South Central District Teacher of the Year and has served that organization in various capacities including choral chair and board member. Sterling High students often outnumber most 6-A schools in the All-State Choirs. Comley has been recognized as Outstanding Music Director five times by Music Theatre of Wichita through their Jester Awards for high school music theatre. In addition to his music responsibilities, Comley has coached junior high football and boys' basketball.
Dutton began her tenure at Sterling High School while finishing her English/speech/theatre degree at Sterling College. She directed her first show at Sterling High School in 1980 and began teaching full-time in 1982. She has directed about 100 shows at Sterling High School and also coached Forensics (competitive speaking and interpretation/acting) and debate in addition to teaching Senior English. Her Forensics teams have been state champions 23 times and the debate team has accomplished the feat six times. Her musicals have been recognized by Music Theatre of Wichita in numerous "Outstanding" categories over the years, including seven for Outstanding Direction. Last year she was recognized by the Kansas State High School Activities Association as the Kansas representative for the National Federation of High School's Outstanding Speech/Debate/Theatre Teacher Award and also was placed in the Kansas Speech Communication Association Hall of Fame.
Gordon Zahradnik started the Rice County Arts Council in 1973. The organization continues to this day sponsoring children's theatre for Rice County grade schoolers and notably the Prairie Art Exhibition which Gordon started in 1975. Gordon hosted a Dabblers Class for many years in which he taught various forms of art  to community residents including painting, sculpture and crafts.
For several years Gordon was also the head of the College's Service Department and started the Community Beauty Spot Program on campus where community members "adopted" a spot on campus for which they would landscape and care for during the year. He paid particular attention to campus signage - complete with the "Sterling plaid" and Celtic lettering.
Gordon also was instrumental in acquiring the former Sterling Hospital and converting it to the SC Art Center in 1976. He helped serve as a fundraiser for the endeavor.
Rae Zahradnik also taught in the Art department and assisted her husband Gordon in many of the department's activities.  
Sterling College's Homecoming runs October 4-6, 2018 and will feature traditional activities and events including reunions, parade, games and more. For more information, visit sterling.edu/homecoming or call 620-278-4228.
Sterling College is a Christ-centered, four-year college located in Sterling, Kansas, with a mission to develop creative and thoughtful leaders who understand a maturing Christian faith. For more information, visit www.sterling.edu.