Sterling College Arts Hall of Fame Class of 2020 Recognized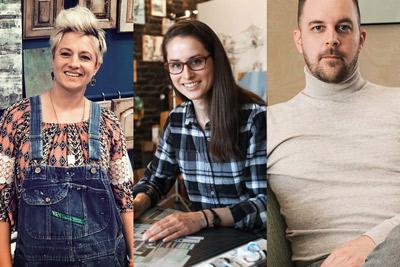 Tuesday, October 26, 2021
Sterling College recognized its three Arts Hall of Fame inductees for 2020 who were awarded at Homecoming on Oct. 14-16. The 2020 induction was postponed until Homecoming 2021 due to the pandemic. Two members of Sterling College's Class of 2001 are being inducted: Rachel (Prochaska) Downs '01, theatrical scenic artist from Wichita, and Jodi Lightner '01, art professor at Montana State University in Billings, Mont. Also being inducted is Hays High School music director Alex Underwood '08. The three were honored on Saturday, October 16, prior to the presentation of the Homecoming musical in Culbertson Auditorium. 
Rachel (Prochaska) Downs came to Sterling College from Minneapolis, Kan. While at Sterling, she was heavily involved in theatre both onstage as a performer and as a designer. She nurtured her scenic painting passion at Sterling and began her career as an independent scenic stage artist in Wichita. She has designed and painted over 100 theatre productions including 150 stage backdrops for numerous high schools and colleges and universities and professional theatre such as Music Theatre of Wichita, Crown Uptown, Wichita Grand Opera, Wichita Children's Theatre, Roxy's Downtown. 
Downs started her own company, PAINTology, in which she and her associates do custom painting on virtually any kind of surface. She is in high demand for her creative painting work in homes, businesses, and churches. She has also worked extensively in public spaces and has painted over 75 murals throughout Wichita and Central Kansas.  
Downs has received four Mary Jane Teall Awards among many Music Theatre of Wichita Jester Awards. One of Downs' first loves is working with students. She has led dozens of workshops in scene painting and props making at Sterling College, Wichita Public Schools, Kansas State University, Kansas Thespian Festivals, among others. She said, "I love teaching young people who want to learn and grow. Mentorship has been very important thus far for me in my career, and I don't believe in industry secrets, so I love to pass on what I know. The more we all know about how to be successful in the arts, the better off we all are. I love working with students who are hungry to learn as I was and who ask good questions."
Her husband, Michael, is also a noted freelance scenic artist. They live in Wichita with their three children: Olivia, Isabella, and Jackson.
Jodi Lightner came to Sterling College from Inman, Kan., and majored in Art & Design. She was involved with art and theatre while at Sterling. Upon graduation, Lightner began her professional career in the Financial Aid Office of Sterling College from 2002-2006. She obtained her Master of Fine Arts degree in painting at Wichita State University where she also started her art education career. She joined the art faculty of Montana State University in Billings in 2012 where she currently serves as Associate Professor of Painting and Drawing. 
Lightner currently has a Retrospective Traveling Exhibition of her artwork touring Montana and is part of an International Exhibition in Friedrichshafen, Germany. Lightner received the Cox Family Teaching Award, a competitive award presented to the highest achieving tenure track faculty at Montana State University. She has also established a study abroad program studying art exhibitions around the globe. 
Lightner came to art education during her time at graduate school at Wichita State. "I really enjoyed teaching art as an accompaniment to the studio. Ironically, I was absolutely against getting an art education degree in the beginning," she said. At Billings, she is able to maintain her own active art studio in addition to her own studio work.
She continued, "My studio practice revolves around how we interact with built structures and spaces. To give a sense of scale and encourage the viewer to see more in the art, I incorporate giant installations and scrolls in contrast to multitudes of tiny details and spaces. Though all of my work could be classified as 'drawings and paintings,' my art should give the viewer something to read, to dig into, and find the hidden meanings in the midst of abstracted elements which represent the intangible experience of living."
Alex Underwood is an advocate for choral music, devoting his work to the development of music structures in rural Kansas. Born and raised in Russell, Alex studied music education and vocal performance at Sterling College before returning to Russell to teach 6-12th grade vocal music from 2008-2012. From there, he earned a master's degree in Choral Conducting from Westminster Choir College in Princeton, N.J., where he performed regularly with the New York Philharmonic and the Philadelphia Orchestra. Upon completion of his dissertation, Alex will receive his doctorate in Choral Conducting from the University of Illinois at Urbana-Champaign where his research focuses on rural music education and interdisciplinary performance projects. 
In 2014, he founded the Ad Astra Music Festival, a series of classical concerts in Russell each July that brings world-class music to rural Kansas. It draws artists who regularly perform with some of the most well-known cultural institutions like the Metropolitan Opera, San Francisco Opera, Philadelphia Orchestra, and the Choir at Trinity Wall Street. The festival is a space for visiting artists to collaborate with local students, amateur musicians, and professional Kansas musicians to create performance projects, a formula that has produced a thrilling result. In 2021, the festival presented an opera commissioned for the 150th anniversary of Russell's founding. 
Underwood's professional efforts center on expanding and enriching the musical life of rural Kansans. He teaches vocal music at Hays High School where he practices his belief that all students deserve a robust and impactful music experience and is passionately interested in tackling the challenges facing teachers and student musicians. He serves as president-elect of the Kansas Choral Directors Association and the Northwest district of the Kansas Music Educators Association.
Sterling College is a Christ-centered, four-year college located in Sterling, Kansas, with a mission to develop creative and thoughtful leaders who understand a maturing Christian faith. For more information, visit www.sterling.edu.