Sterling College Athletic Training Program represented at Kansas State Capitol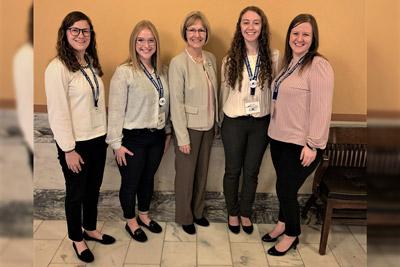 Tuesday, February 25, 2020
Sterling College faculty and students were in Topeka at the Kansas State Capitol for the Kansas Athletic Trainers Society's "Hit the Hill" event on Feb. 11. Nicole Glasgow, assistant professor of athletic training and health science, and Anna Kuns '19, athletic trainer, accompanied Sterling athletic training graduate students Sarah Ahrens of Wichita Falls, Texas, and Kelcie Wood of Silsbee, Texas.
"The KATS "Hit the Hill" event in Topeka was an educational experience for our students and staff. We had the opportunity to be involved in our profession in a new and eye-opening way. We were excited to advocate for our profession and share with our legislators about Sterling College, the Graduate Athletic Training program at SC, as well as the need for proper return-to-learn and return-to-play management of concussions in secondary schools and the role that athletic trainers play in that. I was proud of our students, stretching outside of their comfort zone and gaining valuable experience in networking with other athletic trainers and athletic training students while advocating for an improved standard of care for school-aged kids and teens across the state of Kansas," said Nicole Glasgow, assistant professor of athletic training and health science.
Sterling's athletic training members met with lawmakers including Kansas State Senator Mary Jo Taylor of District 33. The event encouraged "individual legislative meetings and displayed an exhibit focusing on the AT's role in concussion recognition and on-field emergency management."
Sterling College offers a graduate program in athletic training. The program is accredited by the Commission on Accreditation of Athletic Training Education (CAATE). The program is currently accepting applications to the Master of Science in Athletic Training Program.
In addition to athletic training, Sterling College also offers a graduate program in the Master of Arts in Sports Ministry. For additional information about graduate study at Sterling College visit www.sterling.edu/graduate-programs or contact Dennis Dutton in the Office of Admissions at (800) 346-1017, or graduateprograms@sterling.edu.
Sterling College is a Christ-centered, four-year college located in Sterling, Kansas, with a mission to develop creative and thoughtful leaders who understand a maturing Christian faith. For more information, visit www.sterling.edu.