Sterling College Criminal Justice Program to Host Mock Trial April 21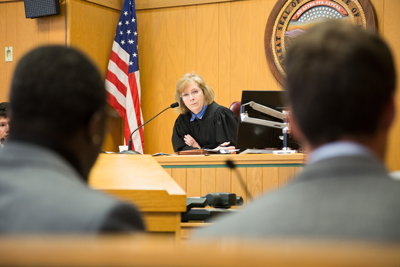 Wednesday, April 13, 2022
The Sterling College Criminal Justice program, specifically the Judicial Process class, will host a mock trial at 9 a.m. on Thursday, April 21, at the Rice County Courthouse. The honorable Kathryn Gardner will serve as the presiding judge. The mock trial is open to the public.
Students enrolled in the course will serve as the attorneys, witnesses and the bailiff. Other criminal justice students will serve as the jury.
The criminal justice program at Sterling regularly hosts notable individuals within the area of criminal justice, including: Derek Schmidt, Kansas attorney general; Stephen McAllister, U.S. District attorney for the District of Kansas and Caleb Stegall, Kansas supreme court justice.
Sterling College is a Christ-centered, four-year college located in Sterling, Kansas, with a mission to develop creative and thoughtful leaders who understand a maturing Christian faith. For more information, visit www.sterling.edu.