Sterling College Debate's Sherraden qualifies for National Interstate Oratory Competition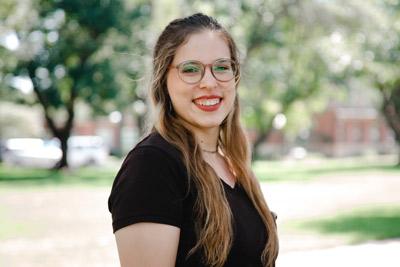 For the 5th consecutive year and 6th time in school history, Sterling College Forensics team has had a team member qualify for the National Interstate Oratory Competition. Paige Sherraden, a junior from Plainville, Kan., qualified by virtue of her performance throughout the season. 
Sherraden is one of two students from the state of Kansas that is afforded the opportunity to compete at the annual competition. With such an elite field, all bidding to be considered the most persuasive, the competition is fierce. 
"Paige is consistently the hardest worker on the team and is steadfast in her attention to detail and practice routine. She enjoyed the experience last year, and I'm happy that this year she qualified again and with COVID potentially on the decline, she will be able to compete in person," said Ken Troyer, forensics coach. 
This year marks the 147th Interstate Oratory competition, which is the oldest intercollegiate speaking competition in the United States. Paige becomes only the 6th Sterling College student to qualify for the competition. In addition to the elite competition, each qualifier will have a copy of their research and speech published in a compilation to include all qualifiers' works. Sterling College earned this qualification competing amongst the likes of Kansas State University, Bethel College, Ottawa University, Friends University, Kansas Wesleyan University and many more. 
Next up for Sterling College is The Interstate Oratory Tournament will take place April 22-23, being hosted by Butler University, in Indianapolis, Ind.
Sterling College is a Christ-centered, four-year college located in Sterling, Kansas, with a mission to develop creative and thoughtful leaders who understand a maturing Christian faith. For more information, visit www.sterling.edu.