Sterling College Debate and Forensics competes in Gorlok Gala Debate Tournament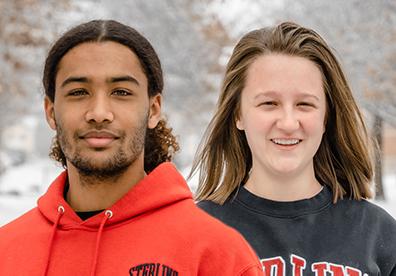 Tuesday, February 9, 2021
The Sterling College Debate and Forensics Teams once again competed in a virtual environment and proved they have adapted well to the new competition format. Sterling competed against more than 65 schools and 500 individuals in the Gorlok Gala Debate Tournament, hosted virtually by Webster University in St. Louis, Mo.
"This trio has really stepped up and put in considerable time to learn and practice.  Tackling a new activity at the collegiate level takes a lot of courage, but all three of them have risen to the challenge and are succeeding despite their limited experience," said Ken Troyer, debate coach.
Sterling's Emily Jones, of Wichita, Kan., and Gabriel Wright, of Terrell, Texas, rose through the ranks by defeating the likes of Boise State University, Minnesota State University and eight other institutions as the two Warriors amassed a winning record of 9-3 and ended the tournament in a tie for 4th place overall. Both Jones and Wright are in their first year of collegiate debate competition and were competing in the novice division of the International Parliamentary Debate Association. 
"The success we had, shows that the hard work my team has put into preparation and practice pays real dividends," said Jones. 
In addition to their success in terms of wins and losses, Wright was named the ninth overall speaker in IPDA debate, while Jones was awarded 10th place. 
Kassidy Brodbeck, of Lubbock, Texas, was also in action, picking up several wins and adding to the team sweepstake total. Sterling now has five students who have qualified for the Pi Kappa Delta national tournament, to be held in March.
The team will next compete online at the Virtual Valentine tournament this coming weekend, hosted by the University of Oklahoma. 
Sterling College is a Christ-centered, four-year college located in Sterling, Kansas, with a mission to develop creative and thoughtful leaders who understand a maturing Christian faith. For more information, visit www.sterling.edu.