Sterling College Debate competes in T-Town Swing Tournament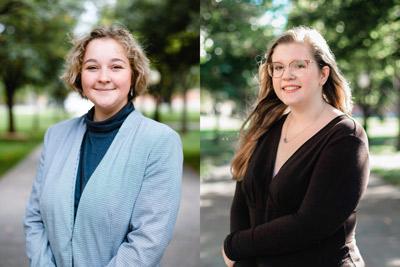 Tuesday, November 2, 2021
The 2021-22 Sterling College Debate & Forensics team faced the challenge of having graduated considerably talented and experienced team members, yet the current team, led by senior Paige Sherraden of Plainville, Kan., has stepped forward and continued the legacy of success. The team competed in the 2nd annual T-Town Tournament hosted by Northeastern State University & Tulsa Community College on October 22-23. 
"All in all it was a great first weekend for a team composed mostly of freshmen. I'm confident we can continue the pace if we continue to practice hard," said Ken Troyer, forensics coach.
With 27 schools in attendance, ranging from The University of Texas El Paso and West Texas A&M to Valdosta and Tennessee Tech, the Sterling team had a remarkable showing with freshman Miquala Purscell of Gorham, Kan., finishing as the top speaker in the tournament in IPDA debate while freshman teammate Mattie Blackburn of Clay Center, Kan., finished as the 5th speaker. Purscell finished the preliminary rounds undefeated with a perfect 4-0 record and advanced through semifinals and into finals where she fell on a split 1-2 decision, finishing in 2nd place overall. Freshman Cody Brooks of Sterling, Kan., also competed and finished with a 2-2 record in preliminaries. 
On the individual events side of the tournament, Paige Sherraden advanced to the final round in Persuasive Speaking where she finished in 5th place overall.  
Sterling College is a Christ-centered, four-year college located in Sterling, Kansas, with a mission to develop creative and thoughtful leaders who understand a maturing Christian faith. For more information, visit www.sterling.edu.