Sterling College Debate continues success in virtual format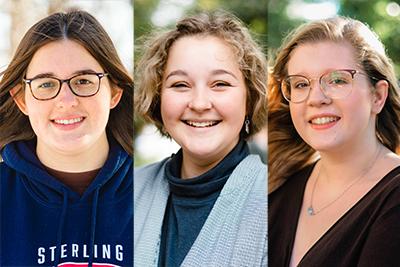 Tuesday, February 8, 2022
The Sterling College Debate and Forensics Teams continues to compete in a virtual environment but is eagerly looking toward a return to in person arguing. On Jan. 28-30, Sterling competed against 49 schools and more than 500 individuals in the Gorlok Gala Debate Tournament, hosted virtually by Webster University in St. Louis, Mo. 
"The team has faced a lot of challenges, not only with learning the intricacies of this style of debate, but in adapting their skills for use in a virtual form. You aren't just mastering argumentation on a variety of topics, but you must also master technology and adapt your speaking skills to judges and competitors on the other side of a computer," said Ken Troyer, debate coach. 
Sterling's Kassidy Brodbeck, of Lubbock, Texas, and Miquala Purscell, of Gorham, Kan., were victorious and advanced to elimination rounds by defeating the likes of Boise State University, Texas State University, Simpson College and the University of Central Missouri and four other institutions as the Warriors amassed a winning record of 8-4. 
Brodbeck was a perfect 4-0 after preliminary rounds. She eventually advanced to finals where she finished 2nd overall. Purscell advanced to the quarter final round of competition and finished in 5th place overall. Both Brodbeck and Purscell are competing in their first full season of collegiate debate competition, with Brodbeck competing in the novice division, and Purscell competing in the JV division of International Parliamentary Debate. 
In addition to their success in terms of wins and losses, Brodbeck was named the tournament's top speaker, while Mattie Blackburn, of Clay Center, Kan., finished as the 7th overall speaker in JV IPDA debate. The team will continue to compete online for the next few weeks, including at the virtual Border Wars tournament being hosted by Kansas Wesleyan University,  prior to attending the Pi Kappa Delta National Tournament, hosted in person on the campus of the University of Central Florida in Orlando on March 10-12. 
Sterling College is a Christ-centered, four-year college located in Sterling, Kansas, with a mission to develop creative and thoughtful leaders who understand a maturing Christian faith. For more information, visit www.sterling.edu.