Sterling College dedicates Gleason Center Expansion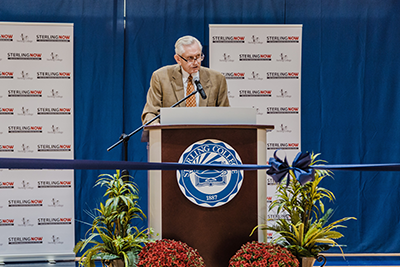 Wednesday, October 21, 2020
Friends, family, alumni and supporters of Sterling College gathered together to dedicate the Gleason Center Expansion on the Sterling College campus on Oct. 16. The short, socially-distanced program included a time of reflection for those who made possible the expansion as well as a prayer of dedication for the new facility. The program was followed by self-guided tours of the building.
"Sterling College has been given a tremendous privilege in this wonderful building and, as a result, we have a wonderful opportunity. Students' minds and bodies are being shaped in this building. Students learn their academic discipline while also learning how to be a part of a team. The teaching, training and nurturing provided in this place by our dedicated faculty and coaches impact lives each and every day. As we are celebrating today, we remember those who have gone before us and who have made this possible," said Dr. Scott A. Rich, president.
The project features 32,000 square feet of new and renovated space, including three classrooms, 20 offices for faculty and coaches, the Dudrey Center for Health Sciences, the Mabee Wellness Center & Weightroom, the First Bank Lobby & Hall of Fame, new and additional locker room space and the new Wilkey Fieldhouse.
The Gleason project is the first of three building projects that are part of the $25 million SterlingNOW campaign. The College also plans to build Zaid-West Science and Research Center, a 30,000 square foot science and math building and renovate Thompson Hall, a 24,000 square foot building that currently houses the science, math and business programs.
For more information on SterlingNOW, including ways to give to the campaign, visit www.sterling.edu/SterlingNOW.
Sterling College is a Christ-centered, four-year college located in Sterling, Kansas, with a mission to develop creative and thoughtful leaders who understand a maturing Christian faith. For more information, visit www.sterling.edu.