Sterling College faculty and staff support students online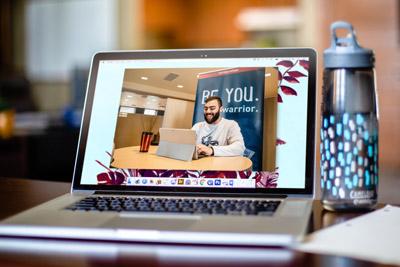 With disruption to regular activities, Sterling College faculty and staff have supported current and prospective students online using a variety of new tools, resources and methods. In response to the COVID-19 spread around the country, the College extended Spring Break by one week and began online instruction on March 30, with faculty and staff engaging students in an online format using Canvas and other virtual tools.
"Friendly, welcoming, caring and supportive are all words we commonly receive as descriptions of our faculty and staff from students and parents. So, while we are saddened to not be together on campus, I am so encouraged that these same caring and supportive Sterling College employees have embraced the move to online classes and are supporting our students and caring for them well," said Dr. Scott Rich, president. 
Faculty have adopted new tools for instruction and teaching including video conferencing, online class readings, course content and personal outreach to students. 
"I am proud of our faculty who have transitioned courses online to meet students' needs and continue the excellent educational experience and value that Sterling is known for. We have a dedicated and caring faculty and support staff who have really stepped up to this challenge," said Dr. Ken Brown, vice president for academic affairs and dean of the College. 
Dr. Lindsey Saenger, assistant professor of exercise science, has embraced the challenge to stay connected with her students with personal outreach and sharing fun memes with her class. 
"During this shift, I committed myself to the continuation of personal instruction. I have added instructor videos for project instructions and lectures as well as held Zoom meetings with students. I truly miss seeing everyone's faces and hearing their voices in class. I have called some of my students. I think it is vital to maintain the personal connection that we have in face-to-face classes. I'm doing my best to maintain that personal connection, not only between myself and the students, but between peers also. To lighten the mood I am also trying to add funny things periodically," said Saenger. 
Chapel is a time of week that is missed by many at Sterling. However, the Office of Spiritual Life has been sending regular "Encouragement Emails" to students that contain links to curated, encouraging Bible verses, messages, devotions and encouragement. Chaplin Paul Brandes '11 sees the importance of personal outreach and resources to help students feel connected.
"In our office, we are seeking to support students in this transition by continuing to provide spiritually encouraging resources for them. We all need encouragement, especially during a strange time like this! The main anchor of this has been our twice-weekly 'Encouragement Emails' that have been well-received by the community. I am proud of our faculty and staff on campus that embraced our project to reach out to every student and we did that with a proactive message of encouragement," said Brandes.
The Sterling College Music Department has invited campus members to join in a virtual choir experience. The virtual choir will be singing  "Is He Worthy?" by Andrew Peterson, a song that the Sterling College choir has been singing all year on campus.
"I know I appreciate the spiritual encouragement I receive from Chaplain Brandes. We are blessed to be at a place like Sterling where we get to meet in chapel as an entire campus. One of the things we are not able to do easily during this time of social distancing is sing together. So we decided to offer this virtual opportunity to raise our voices and join in worship together with our students. So far we've had an amazing response and participation from students, faculty, staff, alumni, and family and friends of the College," said Marisa Callan '05, assistant professor of music. 
In addition to supporting current Sterling College students, the College has announced the Sterling College Online Music Festival, which will allow middle school and high school students to display their musical abilities amongst their peers. The Festival is open until April 25 and is open to all Kansas junior high and senior high school students. 
"With the advance of the COVID-19 global pandemic and the resulting closure of Kansas schools, there lay a large void for students across the state with no hope of showcasing their talents. Now music students have this opportunity thanks to the Sterling College Online Music Festival," said Dr. Brown.
For prospective students and families, the Office of Admissions has announced Virtual Campus Visits available for the remainder of the academic year. Virtual Campus Visits allow for students to meet with their admissions counselor, professors, coaches and activity directors face-to-face via video messaging. Students and families may learn more and sign up for a visit at sterling.edu/admissions/visit-campus. 
"With practically everyone not able to leave their home, it is imperative that we move to an online format for admissions processes," said Dennis Dutton '82, vice president for enrollment.
For all the efforts that have been made to transition and make the best of the current situation, it is encouraging to faculty and staff when those efforts are successful and appreciated.
"It's been wonderful to still be able to stay connected with our students through these initiatives. It's not the spring semester any of us would have chosen, but we're making the best of it. One student replied to a recent 'Encouragement Email' to say how much she has enjoyed them and to offer to pray for me and my family, which deeply brightened my day," said Brandes. 
Sterling College is a Christ-centered, four-year college located in Sterling, Kansas, with a mission to develop creative and thoughtful leaders who understand a maturing Christian faith. For more information, visit www.sterling.edu.