Sterling College faculty attend CCCU Diversity Conference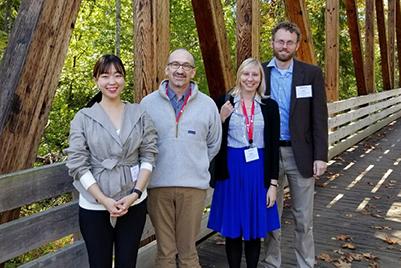 Sterling College faculty attended the CCCU Diversity Conference, which was held at George Fox University, on October 4-5. Dr. Glenn Butner, assistant professor of theology and ministry, Dr. Mark Tremaine, assistant professor of criminal justice, Professor Sia Joung, assistant professor of art and design, and Dr. Rachel Griffis, assistant professor of language and literature and director for the integration of faith and learning, were in attendance. The trip was the first step in a program funded by a grant from the Lilly Fellows Program entitled, "Mentoring for Community, Diversity, and Hospitality."
"As Sterling College continues to expand on our diversity initiatives toward assessing what we are doing well and where we can improve as a campus in supporting the needs of our diverse student body and employees, our attendance at the CCCU Diversity Conference will prove fruitful for the members of our Diversity Committee. We thank the Lilly Fellows Program for the grant funding for making our attendance possible, as well as Dr. Rachel Griffis for her efforts in writing and receiving the grant," said Dr. Ken Brown, vice president for academics and dean of the College. 
 The conference provided faculty with many opportunities to learn about how to teach and serve Sterling College students. They attended several excellent plenary lectures given by renowned speakers Bryan Loritts, Sarah Visser, Roger Nam, Edwin Estévez, Jessica Estévez, and Brenda Salter McNeil. They also participated in workshops on a variety of topics, such as "The Bible as Partner in Campus Diversity Work," "Going Beyond Good Intentions," and "Servicing, Mentoring, and Equipping Dreamer Students."
"This conference helped us to learn about how we can deepen our understanding of Sterling's mission and Christ's commandment that we love our neighbors as ourselves. At the conference, we got more ideas than we can hope to implement on our campus, which is a good problem to have," said Griffis.
Sterling College is a Christ-centered, four-year college located in Sterling, Kan., with a mission to develop creative and thoughtful leaders who understand a maturing Christian faith. For more information, visit www.sterling.edu.