Sterling College Highland Singers Spring Break travel schedule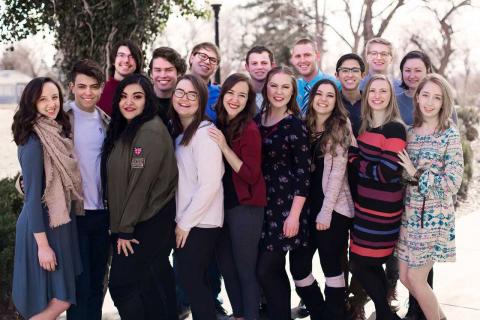 The Sterling College Highland Singers will tour March 9-18, making their first stop in Fruita, Colorado, for a Friday evening concert. The 18-voice mixed choir will sing a variety of selections including classic, sacred and choral settings of contemporary worship music. The public is invited to attend the events along the tour route:
Friday, March 9
6 p.m. Concert at Fruita United Methodist Church in Fruita, Colorado
Sunday, March 11
8 a.m. and 9:30 a.m. Worship Service at Desert Spring United Methodist Church in Las Vegas, Nevada
Monday, March 12
7 p.m. Concert at East Hills Community Church in Riverside, California
Wednesday, March 14
7 p.m. Concert at First Presbyterian Church of Upland in Upland, California
Sunday, March 18
9 a.m. Worship Service at Maxwell United Methodist Church in Maxwell, New Mexico
The Highland Singers are a select ensemble, representing Sterling College throughout the academic year by performing at schools, churches and on-campus functions. The vocal group will connect with audiences from four different states during their tour, singing and ministering in churches and schools along the way to California and back. The group is under the direction of Marisa Callan, assistant professor of music at Sterling College, and accompanied by Joan Ehresman on piano, Trinity Parriman on bass guitar and Brett Callan on percussion.
The Highland Singers include: Kyler Comley of Sterling, Kansas; Elle Crook of Piedmont, Kansas; Will Dutton of Sterling, Kansas; Alexis Engelken of St. George, Kansas; Keith Erichsen of Garden City, Kansas; Bobby Foster of Sterling, Kansas; Alyssa Hershey of Wichita, Kansas; Mishelle Kulick of Lake Elsinore, California; Joannah Maxwell of Corona, California; Kyra McGuire of Haven, Kansas; Preston Nichols of Sterling, Kansas; Kaylyn Oberly of Claflin, Kansas; Isaac Pena of Dodge City, Kansas; Mason Rich of Sterling, Kansas; Kassie Romano of Norco, California; Lexie Sutter of Topeka, Kansas; Courtney Swanson of Norco, California; and Micah Watney of Sterling, Kansas.
The music program at Sterling College establishes a foundation for lifelong growth in music and offers programs and degrees that are tradition-based and future-oriented. They are home to singers and instrumentalists who seek to demonstrate God's love through music.
Sterling College is a Christ-centered, four-year college located in Sterling, Kansas, with a mission to develop creative and thoughtful leaders who understand a maturing Christian faith. For more information, visit www.sterling.edu.