Sterling College Homecoming begins Oct. 14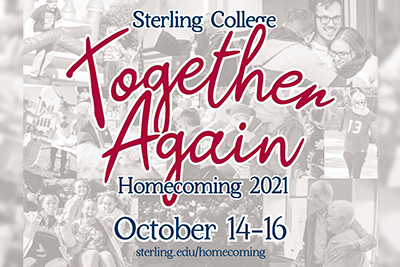 Tuesday, September 14, 2021
Beginning on Thursday, Oct. 14, alumni will travel back to Sterling College to experience the Homecoming 2021 festivities, many of which the community is invited to attend. On Thursday, Check-in and Registration will open at 9 a.m. in the Alumni Center. The Freeman Lecture Series featuring speaker Jonathan Evans begins at 1 p.m. Sterling College will present the opening of Disney's "Newsies" in Culbertson Auditorium at 7:30 p.m. Registration, tickets and additional information for all Homecoming events can be found at sterling.edu/homecoming.
Friday's festivities will include the Heritage Convocation and Alumni Marketplace Awards presentation at 10 a.m. in Culbertson Auditorium. The Alumni Banquet and Awards Reception will begin at 5:30 p.m. in the West Cafeteria in the Student Union. The Alumni Men's and Women's Basketball Games will take place with the women's game starting at 6 p.m. and the men's game at 8 p.m. in the Gleason Physical Education Center. 
On Saturday morning beginning at 7:30 a.m., the community is invited to attend the Annual Pancake and Sausage Feed at First United Methodist Church in support of the Lady Warrior basketball team, the Homecoming Parade at 9:45 a.m., the Homecoming Hangout, featuring food trucks, begins at 11 a.m. outside Mabee Library, the Homecoming Coronation at 1 p.m. at Smisor Stadium and the Warrior football game against Friends University at 1:30 p.m. at Smisor Stadium. 
Saturday will also include the Athletic Hall of Fame Open House at 10:45 a.m. in the Wilkey Fieldhouse at the Gleason Center. Induction of Athletic Hall of Fame members will take place at halftime of the football game. 
Also on Saturday, the Sterling College Theatre Department is hosting a Princess Tea for children of all ages. The Tea starts at 1 p.m. in Upper Wilson Hall with a suggested donation of $5. The Arts Hall of Fame Induction will take place at 7:15 p.m. in Culbertson Auditorium with a reception to honor Arts Hall of Fame inductees and cast members in Upper Wilson Hall immediately following the musical. 
Disney's "Newsies" will run Thursday through Saturday at 7:30 p.m. and Sunday at 2 p.m. Tickets are for reserved seating and can be ordered in advance online or at the Box Office at Homecoming Weekend. The Box Office will open at 6:30 p.m. on show nights and will open at 1 p.m. on Sunday.
There will be reunions for the following classes: 1970, 1971, 1980, 1981, 1990, 1991, 2000, 2001, 2015, and 2016 as well as the Golden Club. Reunions will be held at different times and places. Further information can be found at sterling.edu/reunions.
Sterling College alumni and guests can register at the Alumni Office from 9 a.m. to 5 p.m. on Thursday and Friday, and on Saturday from 11 a.m. to 1 p.m. Registration continues Saturday at Smisor Stadium from 12:30 to 3:30 p.m. Community members are encouraged to participate in events and can pay any required entrance fees at registration or online. For more information, visit sterling.edu/homecoming or call 620-278-4228.
Sterling College is a Christ-centered, four-year college located in Sterling, Kan., with a mission to develop creative and thoughtful leaders who understand a maturing Christian faith. For more information, visit www.sterling.edu.