Sterling College to host Jeff Hooper as Criminal Justice Keynote Speaker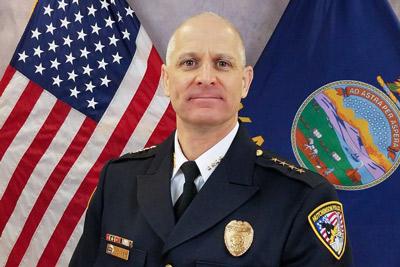 Tuesday, November 2, 2021
The Sterling College Criminal Justice program will host Jeff Hooper, chief of police for the City of Hutchinson, for its keynote lecture on Thursday, November 11, 2021. The College will host Hooper at 7 p.m. in Heritage Hall in Cooper Hall. The public is invited to attend this free event.
"Chief Hooper has an engaging speaking style that really connects with students. Chief Hooper has an infectious passion for criminal justice and we are thrilled he will be joining us for our keynote address this fall," said Dr. Mark Tremaine, associate professor of criminal justice. 
Hooper was hired as a police officer by the Riley County Police Department (RCPD) in 1991. Prior to that he completed an internship for K-State University and served as an Auxiliary Officer with RCPD. He transferred to the Investigations Division as a detective in 1995. He was promoted to Sergeant in 1998, returning to patrol. In 2001, he was promoted again, this time to the rank of Lieutenant. In 2003, he transferred to the Training Lieutenant position, where he also served as the Accreditation Manager for the Department and assumed responsibility for maintaining the Department's required standards set forth by the Commission on Accreditation for Law Enforcement Agencies (CALEA). In 2004, he was promoted to acting Captain and in 2005, Captain. During his service with the Riley County Police Department, Hooper commanded all five divisions which afforded him the opportunity to learn about and lead all aspects of a Law Enforcement Agency. 
In October 2018, Hooper was hired as the Chief of Police for the City of Hutchinson. Since joining HPD Hooper has again implemented a Repeat Offender Program, a Crime Analyst and new K9 and Drone Units. Hooper also initiated a focused community engagement plan and implemented intelligence led policing strategies. 
Hooper graduated from Kansas State University in 1991 with a Bachelor of Science Degree in Sociology and Criminal Justice. He is a graduate of the FBI National Academy's, 213th Class. In 2020, Chief Hooper was appointed by Governor Laura Kelly to the Kansas Commission on Police Officers Standards and Training (KS-CPOST). 
The criminal justice program at Sterling regularly hosts notable individuals within the area of criminal justice, including: Derek Schmidt, Kansas attorney general; Stephen McAllister, U.S. District attorney for the District of Kansas and Caleb Stegall, Kansas supreme court justice.
Sterling College is a Christ-centered, four-year college located in Sterling, Kansas, with a mission to develop creative and thoughtful leaders who understand a maturing Christian faith. For more information, visit www.sterling.edu.