Sterling College to host Symphonic Band Christmas Concert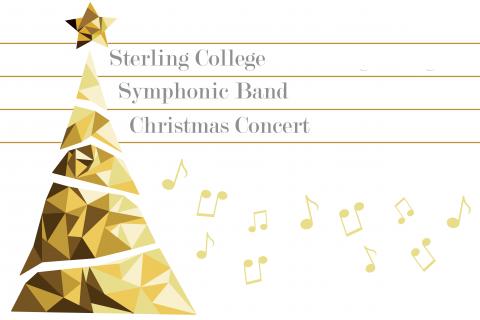 Tuesday, November 27, 2018
The Sterling College Symphonic Band will perform their Christmas concert on Sunday, December 2, at 3 p.m. The concert will be held in Culbertson Auditorium, at Sterling College. The public is invited to attend.
"We are looking forward to helping everyone kick off the Christmas season with some great arrangements of classic carols. We have a very short turn-around from our Fall Concert. In fact, we only had 8 rehearsals to put it all together, but the band has been working hard and we are excited to share our music with the Sterling community. We hope that a lot of people will be able to come and join us for the concert and share in the joy of Christmas with us," said Larry Brownlee, pro-rata assistant professor of instrumental music.
The concert will feature a variety of Christmas music, including a new and exciting arrangement of the traditional carol "O Come, All Ye Faithful" by James Swearingen; "Silent Night," by Jay Dawson; "The Carolers" by James Curnow; "Midnight Sleighride" by Sauter and Finegan and Wallace, which features delightful high woodwind and low brass effects; and "English Carol Festival" by James Christensen.
The Jazz Band will perform "Midnight Clear" by R. G. Wadsworth and "A Child is Born" by Thad Jones. The latter will feature piano and trumpet solos. There will also be a flute ensemble that will perform music from the "Nutcracker" by Tchaikovsk and Finlayson. A special feature of the concert will be a performance of the "Hallelujah Chorus" performed by the Silent Monks, by G.F. Handel.
Sterling College is a Christ-centered, four-year college located in Sterling, Kansas, with a mission to develop creative and thoughtful leaders who understand a maturing Christian faith. For more information, visit www.sterling.edu.