Sterling College to host third annual Criminal Justice Career Fair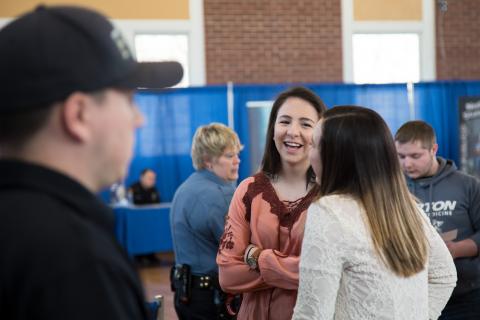 The Criminal Justice program at Sterling College will host its third annual career fair on Thursday, October 11, 2018, from 1-4 p.m. on the second floor of Wilson Hall. The event is free and advance registration is available at www.sterling.edu/cj-career-fair.
"We are very excited to be hosting this event again this year. We believe that it will benefit both students and agencies from across the region and across the state. Attendees will have access to approximately 16 agencies and departments within the criminal justice field to see how careers in this area can impact lives and help others. We also hope to have live demonstrations from some of the agencies," said Dr. Mark Tremaine, assistant professor of criminal justice.
Those in attendance will have the opportunity to visit with law enforcement and correctional agencies that are looking for great additions to their teams. Currently, exhibitors from three states will be present.
The criminal justice program at Sterling regularly hosts notable individuals within the area of criminal justice, recently including: Joe Norwood, Kansas secretary of corrections; Derek Schmidt, Kansas attorney general; and Caleb Stegall, Kansas supreme court justice.
Sterling College is a Christ-centered, four-year college located in Sterling, Kansas, with a mission to develop creative and thoughtful leaders who understand a maturing Christian faith. For more information, visit www.sterling.edu