Sterling College to host tour of SterlingNOW construction progress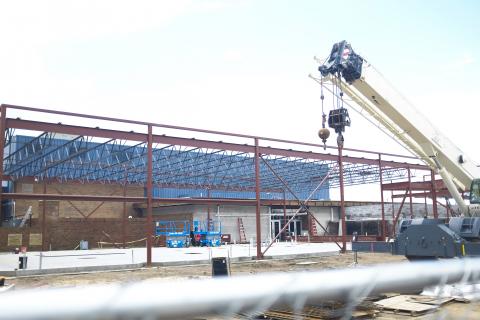 Wednesday, September 18, 2019
Sterling College has announced a tour of the Gleason Physical Education Center and the new Baseball/Softball Complex will be held on Friday, September 20, at 3 p.m. This new construction is part of the SterlingNOW capital campaign. The tour is open to the public. 
A tour of the Gleason Center and the new Baseball/Softball Complex will be held for employees and the public on Friday, September 20. Those interested are asked to meet at Smisor Stadium's west gate at 3 p.m. The tour will be 45 minutes in length. No reservations are needed.
"We cannot wait to welcome our friends and community members onto campus for this special tour of our new construction on campus. The town of Sterling and surrounding community has supported Sterling College through the years and we are proud of sharing the exciting work that's being done on these projects," said Dr. Scott Rich, president.   
The College officially broke ground on the expansion of the Gleason Physical Education Center during its groundbreaking and dedication ceremony on May 10.
The Gleason project will add 32,526 square feet of new space including three new classrooms, 20 new offices for faculty and coaches, the Sterling College Athletic Training and Treatment Center, a new wellness center, the First Bank Lobby & Hall of Fame, new and additional locker room space and the new Wilkey Fieldhouse.
In addition to expansion at the Gleason Center, the College is constructing the Baseball/Softball Complex, a new 6,000 square foot facility located west of the College's tennis courts. This facility will serve the College during the 2019-2020 school as a temporary wellness center as construction displaces the current weight room. In the fall of 2020, the facility will be indoor training space for the softball, baseball, track and cross-country programs and include offices for coaches. The grand opening for both buildings is slated for August 2020.
The Gleason and Baseball/Softball Complex project is the first of three building projects that are part of the $25 million SterlingNOW campaign. The College also plans to build Zaid-West Science and Research Center, a 30,000 square foot science and math building and renovate Thompson Hall, a 24,000 square foot building that currently houses the science, math and business programs.
For more information on SterlingNOW, including ways to give to the campaign, visit www.sterling.edu/SterlingNOW.
Sterling College is a Christ-centered, four-year college located in Sterling, Kansas, with a mission to develop creative and thoughtful leaders who understand a maturing Christian faith. For more information, visit www.sterling.edu.