Sterling College hosts Criminal Justice Career Fair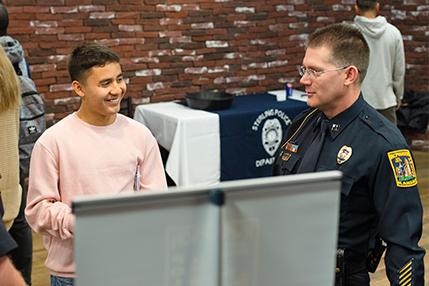 Tuesday, November 5, 2019
The Criminal Justice program at Sterling College hosted its annual career fair on October 24 in the Student Union on the College campus. The event featured law enforcement agencies from Sterling, Hutchinson, Wichita, Overland Park, and McPherson, as well as the Kansas Department of Wildlife, Parks and Tourism, and the Missouri State Highway Patrol.
"We are proud to be able to offer this level of access to our criminal justice students here at Sterling. This event benefits both students and agencies from across the region and across the state. Students enjoy networking with professionals from a variety of criminal justice agencies, to see how careers in this area can impact lives and help others," said Dr. Mark Tremaine, assistant professor of criminal justice.
The criminal justice program at Sterling regularly hosts notable individuals within the area of criminal justice, recently including: Joe Norwood, Kansas secretary of corrections; Derek Schmidt, Kansas attorney general; and Caleb Stegall, Kansas supreme court justice.
Sterling College is a Christ-centered, four-year college located in Sterling, Kansas, with a mission to develop creative and thoughtful leaders who understand a maturing Christian faith. For more information, visit
www.sterling.edu
.