Sterling College hosts Kansas Academy of Science & Kansas Entomological Society Meeting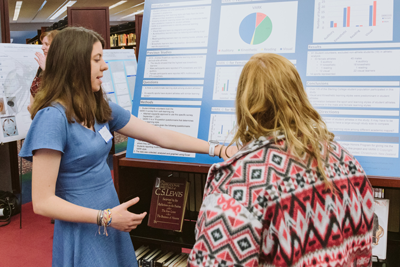 Sterling College held the distinct privilege of hosting the 154th Annual Meeting of the Kansas Academy of Science & Kansas Entomological Society (92nd Annual) on the College's campus over April 1-2. Sterling College students and faculty presented during the meeting. 
"Hosting a scientific conference was a great experience for our students and faculty. I'm especially proud of the students from Sterling that presented their research and volunteered to help during the conference. The presentations were outstanding and our students had the opportunity to showcase some of the tremendous research that's being done at our institution under the guidance of talented faculty," said Dr. Jonathan Conard, associate professor of biology.
Sterling students and faculty who presented included: Sophia Hodge of Topeka, Kan.; Gonzalo Serrano of Gurabo, Puerto Rico; Katie Stucky of Moundridge, Kan.; Jaismon Travelbee of Arlington, Kan.; Sydney VanHorn of Shawnee, Kan.; Debbie Rogers, assistant professor of biology; and Dr. Wai-Foong Hong, professor of biology.
The meeting also featured local tours of the Kansas Ethanol plant and Hyatt Life Sciences greenhouse and production plant. 
"We appreciated the strong support from the local scientific community, the tours of Hyatt Life Sciences and the Kansas Ethanol plant were a highlight of the meeting for everyone involved," said Conard. 
The featured keynote presentations for the meeting included "Taming uncultured deep-sea microbes for the anaerobic oxidation of methane" by Dr. Sabrina Beckmann, Department of Microbiology at Oklahoma State University. The other keynote presentation was "A Game of Thorns: Megaherbivores and Mutualists in an African Savanna" by Dr. Jake Goheen, Associate Professor, Department of Zoology & Physiology, University of Wyoming.
Sterling College is a Christ-centered, four-year college located in Sterling, Kansas, with a mission to develop creative and thoughtful leaders who understand a maturing Christian faith. For more information, visit www.sterling.edu.