Sterling College hosts over 700 high school theatre students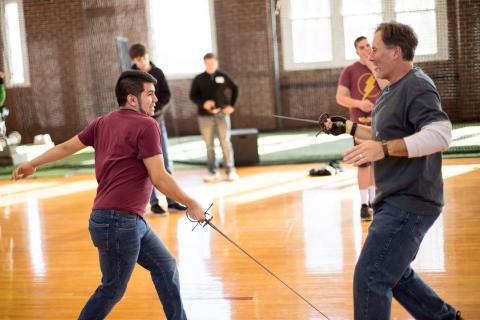 For more than 30 years, Sterling College has hosted a theatre workshop for high school students from all over the state. This year, however, the event spanned two days with workshops and a matinee performance on Monday, followed by a second matinee performance on Tuesday for an additional set of schools. The Monday workshops were led by Sterling College faculty, students, alumni and professionals and covered a range of topics relating to theatre.
"We knew 'Romeo and Juliet' would be a popular title," said Dennis Dutton, vice president for enrollment. "It is almost universally taught in high school freshman English class. Therefore, we decided to offer two matinees. Between the three evening performances and the two high school matinees, 'Romeo and Juliet' was seen by about 1,200 people – making it one of the largest audiences for an SC Theatre production ever."
The cast of "Romeo and Juliet" included students from Sterling College and community members. With a large, multi-generational cast, a short rehearsal time between plays for the College, and working with outside professionals, the production was, according to director Sasha Hildebrand, a risk.
"This experiment has been worth the risk," she said in her director's note for the play.
She also said, "This production took a big leap and took a lot of chances by not only being a Shakespearean play, but by having a guest director come in and stage the show in a manner of ten days, having a professional fight choreographer work with our cast to develop the stage combat needed in a span of two days, having an extremely short rehearsal period, a cast of over thirty people and over sixty costumes, and a pair of beautiful, selfless leading actors who both count this as their first Shakespearean play- and in Juliet's case – her first role in any play."
Dutton said visiting teachers and students were very happy with this year's workshops and performance. Travis Grizzell, teacher at Thomas More Prep-Marian in Hays, said, "We had a great experience at your workshops/matinee yesterday. The students had very positive things to say about the workshops and they absolutely loved the production…. They are now fascinated with stage combat and actually want to do another Shakespeare production at our school."
Theatre workshop topics included acting by Shane Rogers '15, acting through song by assistant professor Mark Clark, auditioning by Jordan Himes '17, forensics by Betsy Dutton '82, improvisation by Lex Rhoadardmer '88, lighting by assistant professor Stephen English, make-up by Alyssa Landeros, scenic painting by Cara Spencer '13, stage combat by Greg McGlynn '86 and choreography by Piper Harding.
Schools in attendance on Monday include: Ashland Jr./Sr. High School, Barton County Special Services, Bluestem High School, Campus High School, Central Christian School, Clearwater High School, Ellinwood High School, Fairfield High School, Garden Plain High School, Goddard High School, Hoisington High School, Lincoln High School, McPherson High School, Pratt High School, Remington High School, South Haven High School, Stafford High School, Sterling High School, Thomas More Prep-Marian, Tipton Catholic High School, Udall High School, Wichita County High School,
Schools in attendance on Tuesday include: Altoona-Midway High School, Chase High School, Flinthills High School, Great Bend High School, Hesston High School, Remington High School, Sterling High School, St. Joseph's Catholic School, Thomas More Prep-Marian, Wakefield High School, and a handful of homeschool students.
Sterling College is a Christ-centered, four-year college located in Sterling, Kansas, with a mission to develop creative and thoughtful leaders who understand a maturing Christian faith. For more information, visit www.sterling.edu.