Sterling College hosts Writing Workshop Weekend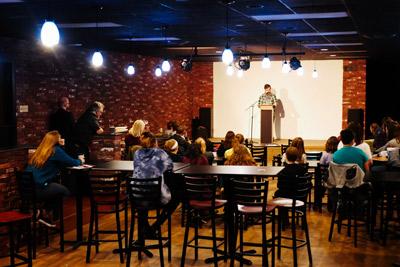 Tuesday, November 13, 2018
The Sterling College English Department hosted its first Writing Workshop Weekend for high school students on November 2-3. The event spanned two days with a poetry slam on Friday, followed by workshops on Saturday. The Saturday workshops were led by Sterling College Assistant Professor of Language and Literature Aaron Brown and Wichita-based writer Luke Gilstrap.
"It was a pleasure to host such strong young writers this past weekend. These high school students were bright, creative, and engaged, and we had such positive responses to our workshops and strong submissions to our contest. My department will certainly make this an annual event," said Brown.
The Office of Admissions and English Department held a Young Writers Contest for high school students. Students were able to submit poetry and fiction pieces. Over 100 submissions were made, and 23 of the top high school students were invited to the Writing Workshop Weekend. Students from Kansas and Colorado were in attendance.
Sterling College is a Christ-centered, four-year college located in Sterling, Kansas, with a mission to develop creative and thoughtful leaders who understand a maturing Christian faith. For more information, visit www.sterling.edu.