Sterling College names Justin Morris '00 as director of athletic operations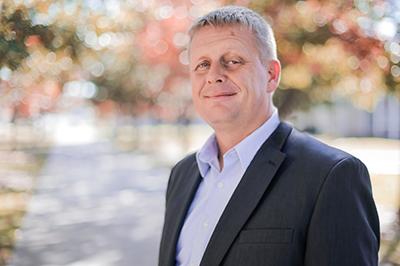 Tuesday, November 13, 2018
Sterling College announced Justin Morris '00 has been named director of athletic operations, effective December 1. Morris currently serves as the assistant athletic director and head women's soccer coach.
"We are pleased to have Justin in this valuable role in our athletic department in his new position as director of athletic operations. He has a strong record of dedication to Sterling College, is a proven relationship builder on and off campus and trains our student-athletes to be servant leaders," said Dr. Scott A. Rich, president.
Morris will move into the director of athletic operations after serving as assistant athletic director for seven years, head coach of the women's soccer team for 20 years. He has also served the College in the following roles: head men's soccer coach, head tennis coach, sports information director and admissions counselor in various points in his career. Earlier this season, Morris earned his 200th win as a head coach. Morris is also the winningest men's and women's soccer coach in school history.
In his new role at Sterling, Morris' responsibilities include overseeing the day-to-day operations of the athletic department and continuing Sterling's strong community support through local partnerships.
"I would like to thank Dr. Rich and the Board of Trustees for this opportunity. I am very humbled and excited to be able to serve our student-athletes, coaches and the Warrior faithful in this new role. Stepping away from coaching will be very tough due to all the meaningful relationships I have been able to create over my time leading the Warrior soccer programs but really feel this is the direction God is calling me and what is best for my family. This is a very exciting time to be a part of the Sterling College family," said Morris.
In his time as assistant athletic director, Morris oversaw and served as the director of the Warrior Wood and Wedge golf tournament, the single largest annual fundraising event for Warrior Athletics. The event generates funding for many athletic department projects and enhancements. Additionally, Morris oversaw the sports information office and he was responsible for advertising for Warrior Athletics. He also assisted the Sterling College Alumni Association in keeping former student-athletes engaged with the College.
He currently serves on the following boards: Sterling-Alden E Communities, Sterling Chamber of Commerce and Sterling Country Club.
Morris holds a B.S. in Physical Education from Sterling College. He and his wife, Karna, have three children: Christina, Kayla and Cameron. They reside in Sterling.
Sterling College is a Christ-centered, four-year college located in Sterling, Kansas, with a mission to develop creative and thoughtful leaders who understand a maturing Christian faith. For more information, visit www.sterling.edu.