Sterling College names Scott Downing '79 as vice president for athletics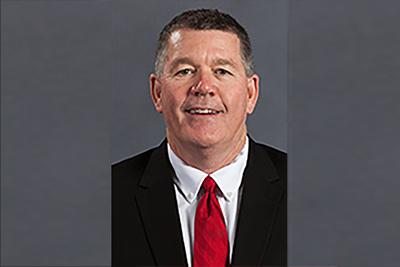 Tuesday, December 4, 2018
Sterling College announced that Scott Downing '79 has been named vice president for athletics, effective January 1, 2019. Downing comes to Sterling from Liberty University where he currently serves as special teams coordinator for their football team. He brings over 30 years of coaching experience at the highest collegiate levels, including seven as head coach. Downing joins Justin Morris '00 in the Warrior Athletics Office, as Morris was recently named director of athletic operations.
"We are tremendously excited to bring Scott Downing back to Sterling to invest in the lives of our student-athletes and enable Warrior Athletics to reach new heights. Throughout his career, Scott has demonstrated leadership by serving with integrity, setting a great example for his student-athletes. Scott and Justin will work hard to maintain and improve upon the student-athlete experience at Sterling," said Dr. Scott A. Rich, president.
In his new role at Sterling, Downing's responsibilities include providing the strategic vision for Warrior Athletics and fundraising support to allow Sterling to consistently compete for championships. He will provide long-range planning for Warrior Athletics and ensure compliance with the rules and regulations governing the operation of the athletic programs. Downing will oversee an athletic department that features 18 teams and over 300 student-athletes.
"Karen and I are excited to return to Sterling College. Our alma mater holds a special place in our hearts, and I am anxious to begin working with Dr. Rich and his team to advance the vision for Sterling's future. Many thanks to Dr. Rich for offering me the opportunity to give back to Sterling," said Downing.
Downing and Morris will form a new executive leadership team in athletics, replacing Gary Kempf who is stepping down from his athletic director role at the end of December.
Downing returns to his alma mater where he started his football coaching career in 1980 as the offensive line coach. In 1982, he was named head football coach at Sterling, becoming the youngest head coach in the nation. During his two seasons at the helm of the Warriors' program, Sterling posted a 13-4-1 record and received the program's first-ever NAIA top-20 national ranking.
Stops in Downing's coaching career include at the University of Nebraska, the University of Wyoming and Purdue University, head coach at the University of Northern Colorado for five seasons followed by moving on to the University of Tulsa as assistant head coach. Prior to joining the staff at Liberty University, Downing served as special teams coordinator for the Canadian Football League's Toronto Argonauts.
Downing holds a B.A. in History from Sterling College. He and his wife, Karen, have three children, Matthew, Andrew and Zachary.
Sterling College is a Christ-centered, four-year college located in Sterling, Kansas, with a mission to develop creative and thoughtful leaders who understand a maturing Christian faith. For more information, visit
www.sterling.edu
.