Sterling College offers Virtual Campus Visits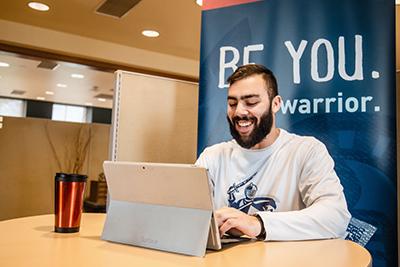 Sterling College and the Office of Admissions is pleased to announce Virtual Campus Visits available for all prospective students and families for the remainder of the academic year. Virtual Campus Visits allow for students to meet with their admissions counselor, professors, coaches and activity directors face-to-face via video messaging. Students and families may learn more and sign up for a visit at www.sterling.edu/admissions/visit-campus. 
"With 'Stay at Home' orders for the state of Kansas, among others, Sterling College has kept the same level of commitment to our current students with the move to online classes and support, and now, we can offer the same personal campus visit experience to prospective families, simply from an online medium. Adding to the significance of this moment is the reality that seniors in high school and potential transfer students are being called upon to make a decision during unprecedented circumstances. Sterling College recognizes that nothing can replace an in-person visit to Sterling, so we will do everything we can to help students and families experience Sterling from where they are," said Dr. Scott A. Rich, president. 
"With practically everyone not able to leave their home, it is imperative that we move to an online format for admissions processes," explained Vice President for Enrollment Dennis Dutton '82.
The Sterling solution to this recruitment dilemma is to use "Zoom," an online conferencing website, allowing for "virtual" meetings and conferences. Many high schools are using the popular conferencing site, so it is familiar to many people. 
A Zoom virtual campus visit will not differ from a traditional on-campus campus visit. Prospective students and parents still register for a Virtual Campus Visit through an online web form on the Sterling College website. There they can indicate their major and activity interests and the date they wish to visit. The Sterling College Admissions Office then schedules appointments with faculty, coaches, arts directors, as well as financial aid representatives and others. A Zoom link is sent via email to the student, parents and all the various college appointments with an Admissions Counselor hosting. 
"Campus Visits are really the core experience of a student's journey in selecting a college. Getting someone to actually drive to Sterling and experience it first-hand is huge. Having students and their families walk across campus, see the smiles of our students, sense the caring and warmth of our faculty and staff – there's just nothing like it. We often hear – especially from students who visit from large cities or from a distance – just how friendly and genuine everyone at Sterling is," said Dutton. 
"We are confident the warmth and friendliness of Sterling College will shine through with the 'Virtual Campus Visit' experience. Our unique Christ-centered perspective, the numerous opportunities for academics, athletics and the arts plus, most of all, our Sterling-quality people, make the difference whether on campus or online," said Dutton.
Sterling College is a Christ-centered, four-year college located in Sterling, Kansas, with a mission to develop creative and thoughtful leaders who understand a maturing Christian faith. For more information, visit www.sterling.edu.