Sterling College places 2nd in JV National Debate Tournament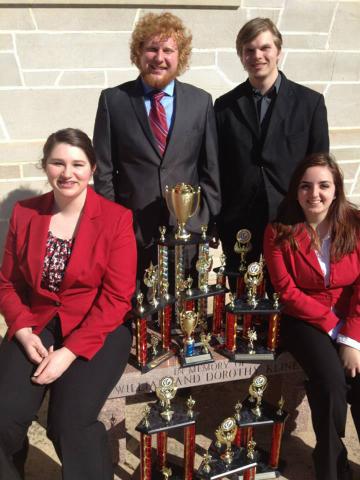 Wednesday, March 19, 2014
The Sterling College junior varsity debate and forensics season closed this weekend, adding additional trophies to the ever-growing display case in Spencer Hall. The team took second place at the JV National Debate Tournament held at Hutchinson Community College in Hutchinson, Kan., March 14-16.
"It was an amazing weekend for our junior varsity team. Our first- and second-year competitors continue to impress me with their ability to perform in new arenas and against the top debaters in the nation. The team worked hard all year, and we saw their efforts pay off this weekend," said Ken Troyer, debate and forensics coach.
Members of the SC Debate Team were awarded first and third overall speakers in parliamentary debate with Anna Kalnina of Pratt, Kan., taking first place and Maddie Miller of Corona, Calif., taking third. Darren Kootz-Eades of Great Bend, Kan., earned sixth overall in Lincoln Douglas debate. Kerry Balch of Yukon, Okla., advanced to the finals in informative speaking, earning sixth overall.
In the team events, Kalnina and Miller were 5-0 in the preliminary rounds, with Kootz-Eades and Cody Campbell of Buckeye, Ariz., following close behind with a 4-1 record. Kootz-Eades and Campbell made it to the semifinals.
Kootz-Eades will join Brandon Hoesli of Salina, Kan., and Jacob Skala of Newton, Kan., at the National Forensic Association National Championship Tournament at Eastern Michigan University on April 18-21.