Sterling College receives Dudrey estate gift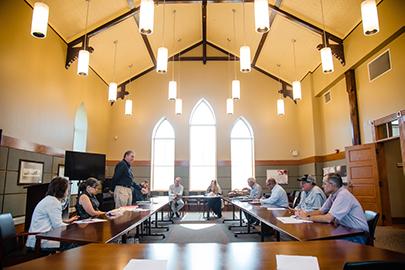 Sterling College has received the estate gift of Carl Dudrey, St. John, Kansas, providing a $7.9 million bequest to the College. The gift is the largest estate gift in the College's history. First Bank processed the transaction of the gift. 
"This gift is transformational and we are so honored and grateful for the generosity of Carl and his wife, Bonnie. We are honored to receive this gift today as their lasting generosity will support students and help us to continue to partner with families to make a Christ-centered education affordable here at Sterling. Carl was a true servant leader who believed in the work of Sterling College and would often hand-deliver his gifts to the College," said Dr. Scott A. Rich, president.
Sterling will recognize Dudrey on campus by naming the Dudrey Health Science Center in his honor. The science center will be located in the expanded Gleason Physical Education Center and will host classes for health science, athletic training and more. 
A U.S. Army veteran, Dudrey was a farmer, rancher and entrepreneur. He owned Dudrey Cattle Company, was a member of the board for Kansas Ethanol and served First Bank as chairman of the board from 1993-2018. He passed away March 17, 2018. Bonnie Dudrey preceded him in death on March 20, 2014.
Roughly $6.9 million of the gift has been allocated to the College's endowment to benefit student scholarships; and $1 million is being used for construction projects.
SterlingNOW is the College's largest capital campaign to date with a goal to raise $25 million. Projects within the campaign include construction of a new science and research center, expansion of the Gleason Physical Education Center, renovation of Thompson Hall and growing the College's endowment.
For more information on SterlingNOW, including ways to give to the campaign and progress towards the Mabee Challenge, visit www.sterling.edu/SterlingNOW. 
Sterling College is a Christ-centered, four-year college located in Sterling, Kansas, with a mission to develop creative and thoughtful leaders who understand a maturing Christian faith. For more information, visit www.sterling.edu.