Sterling College receives lead naming gift for SterlingNOW capital campaign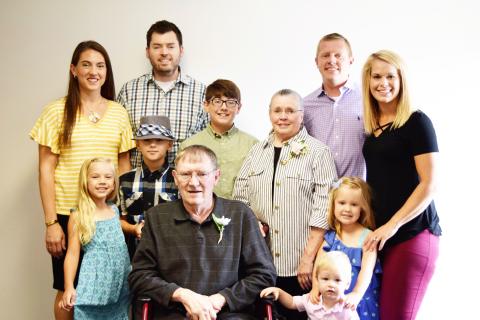 Thursday, September 27, 2018
Sterling College is pleased to announce a lead naming gift commitment to the SterlingNOW capital campaign from John and Phyllis Wilkey of Sterling, Kansas. A significant feature of the expansion of the Gleason Physical Education Center will be the addition of an auxiliary gym located on the northwest corner of the facility and named in honor of the Wilkey family.
"We are tremendously grateful to the Wilkey family for their sacrifice and commitment to Sterling College and transformation of lives that happens on this campus. John and Phyllis are servant leaders who demonstrate character and leadership to the College and in the Sterling community. This gift will impact future students for years to come," said President Scott Rich.
A trustee emeriti on the Sterling College Board of Trustees, John graduated from Sterling in 1967 with a degree in education and emphasis in math. A 1965 elementary education graduate, Phyllis served on the College's National Advisory Council for many years.
John served on the committee for the capital campaign, a group given the charge in May 2015 to raise $25 million.
"John inspired us. We greatly appreciate John's leadership. He has a vision for what we could achieve, and he put both his money and his time into the effort with gifts to the campaign and soliciting others to support this important effort for the College and community," said Scott Carter, vice president for institutional advancement.
SterlingNOW is the largest capital campaign in College history. Projects within the campaign include construction of a new science and research center, expansion of the Gleason Physical Education Center and the renovation of Thompson Hall and growing the College's endowment.
The building projects for SterlingNOW total $22 million, of which the College has raised $19.3 million. The College needs to raise an additional $700,000 by Oct. 10, 2018, to meet the challenge grant offered by the Mabee Foundation of Tulsa, Okla. If this goal is achieved by the deadline, the Mabee Foundation will provide a grant of $2 million, which would complete the fundraising goal of the campaign's construction projects.
The College has now raised $20.1 million in gifts and pledges towards its goal of $25 million for the campaign.
For more information on SterlingNOW, including ways to give to the campaign and progress towards the Mabee Challenge, visit www.sterling.edu/SterlingNOW.
Sterling College is a Christ-centered, four-year college located in Sterling, Kansas, with a mission to develop creative and thoughtful leaders who understand a maturing Christian faith. For more information, visit www.sterling.edu.